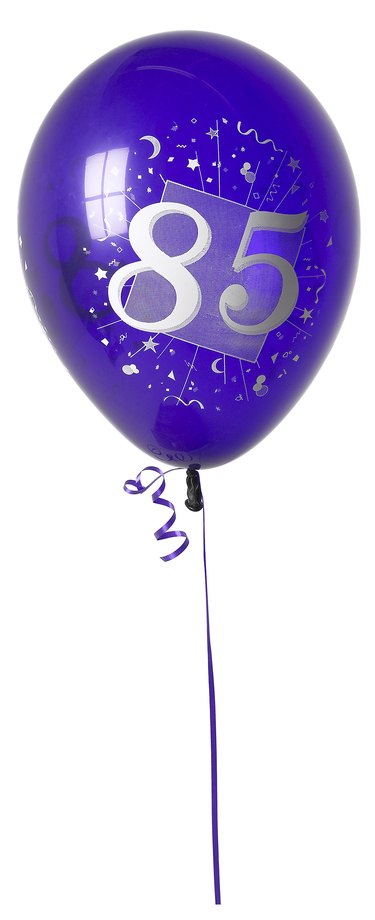 Celebrating the 85th birthday of a loved one is a monumental event. When planning the event, keep the birthday guest of honor's interests, hobbies and style in mind. Create an environment that celebrates and honors his life, accomplishments and impact he has on those closest to him. A few ideas and some inspiration are all you need to create a memorable 85th birthday party.
Numbers
Use the number "85" when coordinating the party. For example, print the number "85" on sheets of paper or card stock. Cut the numbers out and write the party details on the back of each number to mail to the party guests. Print banners and pictures with the number "85" to display around the party area. Make a large banner that reads "___ is 85 years young" to hang on the wall. Use number cake pans to create an "85" cake. Instead of 85 candles, use the numbers "8" and "5" on the cake. Other ideas include using "85"-themed confetti, tableware and balloons.
Memories
Create a birthday party based on all the memories of the birthday guest of honor. Before the party starts, gather a variety of pictures of the birthday honoree and tape them to a large display board. Make the board elegant by covering it with black felt before attaching the pictures to it. String miniature white lights around the edge of the board, and set the board up on a large table for guests to see. Have all the guests write down one memory of them and the birthday guest of honor on an index card. Towards the end of the party, read each memory aloud.
Flashback
Go back in time to his favorite decade with a flashback-themed birthday party. For a 50s party, use old records to make the party invitations, and have party guests dress the part for added fun. Guests can wear poodle skirts, leather jackets and letter sweaters as costumes. Play music by 50s icons, such as Buddy Holly, Frankie Valli and Elvis Presley. If the guest of honor loved the 80s, create a groovy party theme and have guests wear bright neon colors. Play music by artists like Michael Jackson, Duran Duran and Madonna.
Over the Hill
Plan an over the hill party for the birthday honoree with a sense of humor. Decorate the party area in all black with items like black balloons, flowers and tableware. Use black artificial flowers to create centerpieces for the party tables. On the cake write, "Here lies the youth of ___." You can also incorporate the number "85" into the over the hill decorations. Serve black foods, such as cupcakes with black icing, caviar, black beans and black olives.