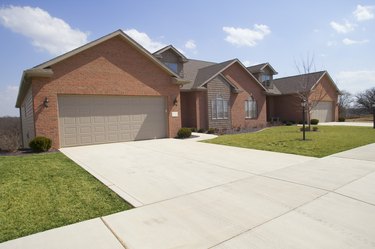 Making your own garage door can save you thousands of dollars off the cost of a store-bought garage door and its installation. Although many doors operate on an automatic track, you can make a cheap alternative that slides or opens to the side. This will allow you to build a door with a custom look that serves your needs at a fraction of the cost.
Carriage Door
Carriage doors have old-world charm and mimic the appearance of carriage house doors. They often feature small windows at the top of the garage door and are made from wood. Make your own carriage garage doors by drawing a sketch to resemble the look you are going for and cutting wood to the size and shape with a saw. Hang the doors on frames and attach door hinges to the new doors. Add latches and treat your wood with a weather-resistant sealant.
Barn Door
If you don't need an automatic door for your garage, consider installing a sliding barn door. This door will add a decorative feature to your home and will work well if you have a farmhouse-style home. Construct the door out of wood and attach a sliding track to the door so you can slide it open. A bright red color will enhance the barn garage door look. The door will slide to the side outside the plane of the front of the garage.
Screen
A very inexpensive option for your garage door is to install a roll-up screen. The screen will cover the area after you park your vehicle inside the garage. When you don't need the barrier separating the garage from the outdoors, roll up the screen.
Paneled Door
Make a DIY garage door out of old cabinetry with recessed panels. Start with a plywood base and form two doors from the plywood. Screw cabinet doors that have recessed panels on them to the plywood doors. This will add architectural detail to the doors. Add hinges to the plywood doors. Sand and paint the doors in the color of your choice. Since you will be working with wooden cabinetry doors, you can also stain the doors to enhance the wooden look.