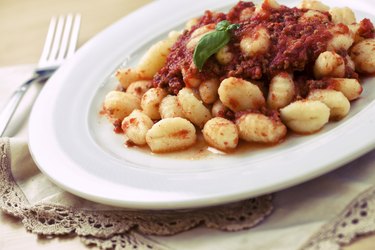 Although gnocchi, traditional Italian dumplings, can be made with cheese or semolina, potatoes are the modern standard in Italy. The potato is a New World plant, so it's not an ingredient with thousands of years' tradition behind it in Italy, but the same could be said of tomatoes and peppers, its classic partners. Neutral gnocchi work well in a number of ways.
Tomato-Based Sauces
Gnocchi made from semolina are closer to pasta than the potato version, but potato gnocchi are similarly compatible with most pasta sauces. Use freshly made gnocchi as soon as they're drained, or reheat pre-made gnocchi in hot water or a skillet with a little butter. Toss them with the sauce, sprinkle them with your favorite shredded cheese, and serve them hot. Use your favorite homemade or commercial sauce. Potato gnocchi will go equally well with marinara, Bolognese or other meat-based ragu, or a spicier Abruzzi-style sauce.
Cream and Cheese
The primary ingredient in potato gnocchi is mashed potatoes, so it's not surprising the gnocchi have a similar affinity for dairy products including milk, cheese, butter and cream. White sauces, cheese sauces and cream sauces, such as Alfredo sauce, are eminently compatible with potato gnocchi. You can toss the cooked gnocchi in sauce and serve them immediately or arrange the gnocchi in a baking dish under a covering of sauce, then sprinkle them with cheese and bake them.
Meaty Stews
For cold-weather comfort, use gnocchi as the starchy component for a meal of stewed meat and gravy, just as you'd use mashed potatoes. Fill a pasta bowl with a generous portion of potato gnocchi, then ladle your stew over the top. Have some crusty bread on hand for the gravy.
Light Leanings
A meal of gnocchi needn't always be rich and heavy, it can also be light and flavorful. Toss your cooked gnocchi with pesto, for example, adding a few spoonfuls of the cooking water to give the sauce a creamy texture. A sauce of browned butter and fresh sage leaves is another classic preparation, good with grilled meats or poultry. For a light meal, saute the gnocchi with spinach, leeks and pine nuts, or your favorite fresh herbs.