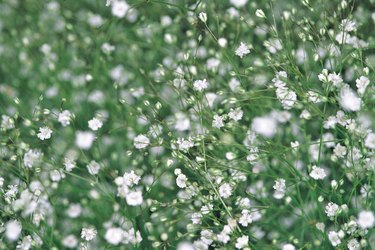 Gypsophila incorporates nearly 100 plant species, the most famous of which is Baby's Breath (Gypsophila paniculata). These plants vary in size and color, but they generally exhibit masses of pleasant flowers and either form mats or tall, upright stalks. Many gypsophila species are creepers and adequately fill open spaces in a yard or garden bed. Their blooms, when cut, serve a similar purpose of filling in floral arrangements.
Mat-Forming Perennials
Reaching just 3 inches tall, Gypsophila cerastioides spreads up to 8 inches across to form a mat or mound. Its gray-green leaves are highlighted by white or mauve flowers that reach more than 1/2 inch across and are lined with pink. Gypsophila repens is especially adept at filling in spaces with a mat-like growth habit. It can grow 24 inches wide and 4 inches high and produces many small flowers in white, pink or mauve. Plant these lovely flowers in full or part sun.
Upright Perennials
The most famous among all the species in its genus is Gypsophila paniculata, or Baby's Breath. This perennial forms bushy clumps and masses of small pink or white flowers. These flowers are renowned for their hardiness, ease of drying and preserving and use as a filler flower. The cultivar Bristol Fairy is well-known and produces double flowers. A similar cultivar called Perfecta is robust and produces large, double white flowers. It can bloom in early summer, unlike other varieties, and may rebloom in early fall.
Annuals
Gypsophila elegans is known as Annual Baby's Breath. This plant does not have the extended life span of perennial baby's breath, but it does produce masses of large white flowers or small pink and purple ones. It is more often used as a fresh flower than dried. Gypsophila muralis is another annual that is nicknamed Low Baby's-breath. It has an upright habit but reaches just 2 to 6 inches high and has a shorter life span. Its flowers are a delicate pink and not as prolific as other varieties.
Care
The name "Gypsophila" actually means lime-loving, but these species will thrive in both neutral and alkaline soil. As long as the soil is fertile, moist and well-draining, these plants are easy to grow and bloom. The mat-forming species grow well in rocky landscapes. You can encourage a second bloom by deadheading (removing dried and dead blossoms) and pruning back larger species. Take cuttings or plant these flowers from seed to propagate.