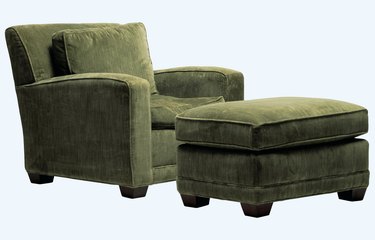 Ottomans give a touch of class to your living room and allow visitors to put up their feet while sitting on a couch or chair. When selecting an ottoman, you should consider the color and fabric of existing furniture, as you don't want the ottoman to clash with your couch. However, if you fall in love with an ottoman that doesn't match your decor, you can always change one or the other using slipcovers, so don't worry too much about the ottoman's color.
Frequent Use
Ottomans should match the furniture with which they are most frequently used. For example, if you have both a couch and a loveseat in your living room, choose an ottoman that more closely complements the piece of furniture you are going to use it with. The ottoman doesn't have to be the same color as the furniture, but it should be a complementary color and should not clash. Since all the furniture in one room should match to some degree, your ottoman will probably end up matching your couch even if you use it more often with the loveseat.
Slipcovers
If you fall in love with an ottoman that doesn't match your couch, you may want to consider a slipcover for the couch. A slipcover is a piece of fabric you can put over the couch to change its color. Get a slipcover that matches the color of your ottoman. Keep in mind that if you have other furniture in the room, your ottoman and slipcover should match the other furniture rather than clashing with it.
Contrasting Colors
Your ottoman doesn't have to be the exact color of your couch. However, if the ottoman's color clashes with the color of your couch -- meaning that the colors don't complement one another and you get a headache from looking at them together -- you're going to have to change one or the other. If you don't want to get an ottoman that's the same color as your existing furniture, you can get one in a contrasting color. Contrasting colors are easy on the eyes and complement one another well. For example, yellow and black are contrasting colors.
Matching Material
Your ottoman can be made out of a different type of material than your couch. This offers contrast even if the ottoman and couch are the same colors. For example, if your couch is made out of fabric, consider an ottoman made out of leather or metal. This will make your ottoman stand out and give visitors a feeling of more variety in the room.