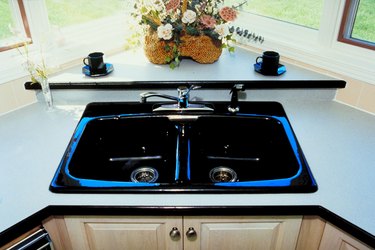 As a primary center for family life, the kitchen must be well-designed and aesthetically pleasing. The layout of cabinets is an essential part of this function, and will dictate how well the space flows and how easy meal preparation is. Cabinet proportion is part of a successful remodel, and entails selecting pieces that are in keeping with the size of the room. When fitting a corner base cabinet for a sink, there are a few basic dimensions to keep in mind.
Cabinet Options
There are several types of cabinets to choose from when remodeling a kitchen. The most widely used, inexpensive option is to select ready-made products. These pieces are available from most home-improvement or hardware stores and are more readily available than custom designs. The major down side of this selection is that size, style and color selection are somewhat limited. Most manufacturers will produce a standard median size as well as a smaller and larger option. These are mixed and matched with fillers to create the best layout for a space. Custom cabinets are designed to individual specifications, including size, color and overall look. The high cost and extended waiting period mean they are not an option for most construction projects. Proper measuring is of utmost importance, as incorrect figures will leave a space that is too large or too small for a standard corner sink cabinet.
Sink Cabinets
A sink cabinet is one that will house the sink and its plumbing. These pieces are designed to fit in with other base cabinets and as such have dimensions that will be similar to standard base designs. Manufactured sink cabinets will normally measure 36 inches in width and 24 inches deep. This depth is standard for all base cabinets. When fitting the sink cabinet into a corner, the dimensions are a bit different, usually 36 inches wide by 36 inches deep. This added space will accommodate the sink and provide the additional room for plumbing. Custom-order cabinets usually provide a bit more space, measuring as much as 42 inches wide by 42 inches deep. The 42-inch option will work best for double-bowl kitchen sinks.
Base Cabinet Dimensions
The standard depth for base cabinets, regardless of manufacturer is 24 inches. This is the measurement from the front to the back of a cabinet and is important to know when selecting a sink cabinet to avoid having areas that are uneven. A standard height for these cabinets is 34 1/2 inches, which rises to 36 inches when accounting for the countertop. Cabinet width is going to have the widest variety, usually starting as narrow as 9 inches and increasing in 3-inch increments to as wide as 36 inches. Some manufacturers will increase by 6 inches as opposed to 3.
Overhead Cabinet Dimensions
When measuring for overhead cabinets, the sizing is significantly more diverse than with base cabinets. This diversity accounts for windows, appliances and other architectural elements these pieces musts accommodate. These cabinets feature two depth options, 12 or 24 inches. Unlike with base cabinets that house the counter and must be uniform, overhead height measurements will vary greatly. The minimum height is usually 12 inches and, measuring in 3-inch increments for most manufacturers, will reach as tall as 42 inches. Tall cabinets, some as tall as 96 inches, are available to fill space around refrigerators.