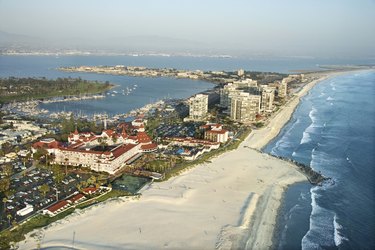 When New Year's Eve arrives, San Diego natives are less than 20 minutes from ringing in the new year at Coronado Island. The premier event of Coronado Island is the Gala at Hotel Del Coronado, a historic hotel on the shores of the Pacific Ocean. Coronado Island residents and guests may view fireworks or take advantage of the island's vibrant nightlife on the evening of December 31.
Hotel Del Coronado New Year's Eve Gala
Every New Year's Eve, the Hotel Del Coronado (hoteldel.com), or "The Del," hosts its elegant New Year's Eve Gala. This annual festivity commences with a champagne reception, which occurs in the Crown Room. After the reception, the Gala's guests proceed to the Ballroom for dinner and dancing. At the stroke of midnight, all guests may participate in Gala's champagne toast. Ballroom dancing is available throughout the evening. The New Year's Day Champagne Brunch occurs on the morning of January 1 in the hotel's Crown Room. The price for the Champagne Brunch is not included in the Gala package.
San Diego Bay Fireworks
New Year's Eve partiers on Coronado Island can view the New Year's fireworks over San Diego Bay. Although the fireworks are set off in downtown San Diego, the north shore of Coronado Island offers beaches for watching the event. Coronado Island's primary spot for observing the fireworks is Tidelands Park. This park allows viewers to see the fireworks explode above the San Diego-Coronado Bay Bridge. Silver Strand Beach is less than 20 minutes from the village of Coronado, and is also a good place to check out the San Diego Bay fireworks.
Dining
For a romantic outing on New Year's Eve, couples may spend a part of their evening at one of Coronado Island's fine dining establishments. Most of Coronado Island's fine dining restaurants are near the intersection of Orange Avenue and Ocean Boulevard. Many of these restaurants offer wine selections, tables with candlelights and preset dinnerware. Some of Coronado's restaurants have private dining rooms for New Year's Eve parties. The Tuscany Room at the Primavera Ristorante (primavera1st.com) seats 14 guests, while the Coronado Boathouse (coronado-boathouse.com) offers outdoor dining on its North Patio and South Patio. The Coronado Boathouse's North Patio provides views of the downtown San Diego fireworks.
Hotels
Aside from the Hotel Del Coronado, Coronado Island provides overnight accommodations on the northern and southern ends of the island. On the north shore of Coronado, New Year's Eve partiers have access to rooms at the Coronado Island Marriott Resort and Spa (marriott.com), a waterfront hotel with 273 rooms and 27 suites. This resort offers dining at its on-site restaurant, Current, and is less than a 10-minute walk from Tidelands Park. More budget-friendly hotels on Coronado are the Crown City Inn (crowncityinn.com) and Best Western Suites Hotel (bestwestern.com) on Orange Avenue.