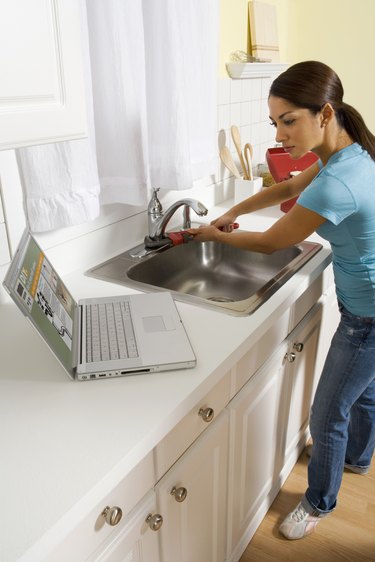 A stainless steel sink is a good investment since it can stand up to years of use and still look new. On the downside, though, the color can limit the number of faucet choices. Although some options may be out, there are still plenty of finishes that look great with stainless steel. The key is to consider the rest of the kitchen, such as the color of countertops and the backsplash, when choosing a faucet.
Stainless Steel
It is an obvious choice, but a stainless steel faucet will blend with a stainless steel sink. Neither will contrast with the other, which is a perfect choice for some decorating schemes. Stainless steel faucets are also durable and easy to clean, although they can be pricey compared to some other types of faucets.
Chrome
A polished chrome faucet will coordinate with a stainless steel sink, but will also stand out due its high shine. This can help tie in the sink with the rest of the kitchen if there are other polished chrome details throughout the room. It also highlights the faucet and can give the sink a modern look.
Nickel
A brushed or satin nickel faucet will blend in with a stainless steel sink much the way a stainless steel faucet would. They usually have a more muted finish than stainless steel and don't show water spots as easily. Like stainless steel, nickel faucets are a little more expensive than other finishes, but are durable and easy to clean.
Colors
In addition to metallic finishes, faucets in different colors also work well with stainless steel sinks. The color can coordinate or contrast with the countertops or backsplash for a designer look. Colored faucets are usually made from epoxy, enamel or plastic. Epoxy and enamel are more expensive, but also far more durable than plastic.
Specialty Finishes
Faucets with glass, stone and even protected wood finishes are available. Typically, a major portion of these faucets have a metal finish, with the glass, stone or wood used as an accent. These faucets also coordinate well with stainless steel sinks as long as the metal is a silver tone.
Other Metal Finishes
Bronze and brass faucets typically do not go well with stainless steel sinks. They can be used, however, if the rest of the decor is carefully coordinated. For example, a carefully chosen countertop or backsplash with some of the same shades of reddish-brown as the bronze faucet, along with bronze cabinet pulls, may be enough to make a bronze faucet look like it belongs. Generally, however, metals that are not silver in tone should be avoided with stainless steel sinks.