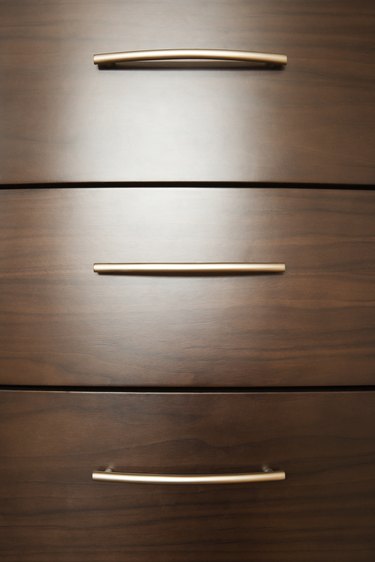 When you buy custom-designed cabinets for your kitchen, the installation of the cabinets typically is included in the overall price. Hanging fabricated kitchen cabinets or cabinets you buy from a home improvement store, though, means you must install the hardware yourself. The proper height for handles or drawer pulls on the cabinets is one that feels comfortable for your height.
Expert Insight
According to Tim Carter of Ask the Builder, the proper height for drawer pulls and handles is approximately 2½ to 3 inches from the lowest corner of the door. Locate the lower right- or left-hand corner of the cabinet and measure up at least 2½ inches. Move in a minimum of 1 inch and mark the space. Drill the hole with an electric drill and mount the hardware in the hole. Depending on the type of handle your cabinets use, you may need two holes per handle.
Considerations
Kitchen cabinets are not standard; some designs have a more decorative look that others with glass front doors or carved edges. When using decorative cabinets, do your initial measurements and then look at the design. Make sure that the drilled hole does not pass through any decorative element and does not ruin the look of the cabinet. For glass front doors, mount the hardware on the edge surrounding the glass.
Lower Cabinets
For cabinets placed on the lower areas of the kitchen, use the same measurements. Measure from the top corner rather than from the bottom corner. Move down at least 2½ inches and install the drawer pull or hardware on that spot. When you add the handles, make sure the hardware sits on the side opposite the hinge.
ADA Compliance
For a kitchen that complies with the Americans with Disabilities Act, you must use a different measurement system. The act covers cabinets used for storage, including those in apartments or hotels with rooms or living spaces for people with disabilities. According to the ADA, the cabinet hardware must be easily accessible by those in wheelchairs and those with other disabilities. The hardware must sit low enough that the individual can reach and open the cabinets with a minimum of pushing or pulling. Place the cabinet hardware as low as possible on the cabinets, which the person can reach from a sitting position. Place the hardware on the lower cabinets slightly higher, which reduces the amount of bending or straining.