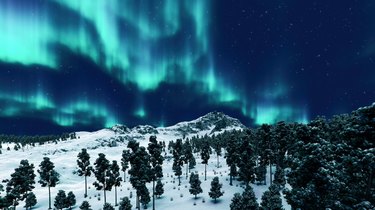 Growing crops within polar zones can be challenging because of the extreme weather and limited sunlight. When growing crops in or near the polar zones, gardeners' and farmers' crop options are limited to the few that can withstand the dramatic temperature drops and few hours of sunlight.
The polar zone refers to a climate region on Earth. There are three general climate regions: the tropic zone, the temperate zone and the polar zone. The tropic zone straddles the equator and then shifts into the temperate zone as it extends outward, eventually leading to the polar zone, which surrounds both the North and South Poles. There are two subregions within the polar zone: the ice cap and tundra regions. Winter temperatures within the ice cap subregions can reach -40 degrees Fahrenheit, while summer temperatures reach up to 0 degrees Fahrenheit.
However, the arctic is not solely ice and snow. The regions within the zone are diverse and range from sea ice and coastal wetlands to upland tundra, glaciers, mountains, rivers and sea. Eight countries are located within the polar zones, meaning they possess portions of land within the Arctic or Antarctic circles; however, no countries are located entirely within these zones. The United States, Canada, Norway, Sweden, Finland, Iceland, Denmark and Russia have territories in the polar zone.
What Plants Grow in the Arctic?
Most communities within the arctic and polar zones have their produce shipped from southern, temperate communities. Plant life within these regions is generally sparse, considering the extreme weather and limited sun. However, there are regions within the zone that can support plant life. Mostly located along coastal lowlands, sheltered valleys and streams and rivers, these regions sport mosses, lichens and other plants vital to the ecosystem that provide plant-based food to all sorts of creatures that live there.
While a few hardy vegetable crops may be able to be grown within these regions, a shortened growing season makes it very difficult. Because of this, most of the plants grown within these regions are not food crops. The adaptable arctic poppy (Papaver nudicaule, USDA plant hardiness zones 2-7), moss campion (Silene acaulis, zones 4-9) and the yellow oxytrope (Oxytropis campestris, zones 3-8) are commonly found throughout the northern Canada arctic regions.
Because the polar zones are not conducive to growing the same crops commonly found in the temperate zones, many communities within the polar regions have turned toward greenhouse gardening to fulfill their food needs. Without greenhouses, produce and food were typically shipped to these communities, often creating food insecurity.
In greenhouses located in northern Canada, hanging vegetables are grown using a hydroponic system, which is a method of growing plants without soil. To combat the very little sunlight these regions see, the greenhouses can use the four hours of sunlight per day to create a warmer climate inside the greenhouse, up to 30 degrees Celsius or around 86 degrees Fahrenheit. By using greenhouses to grow arctic crops, arctic gardening has been expanded to include kale (Brassica oleracea, zones 7-9), spinach (Spinacia oleracea, zones 5-10), lettuce (Lactuca sativa, zones 2a-11b), potatoes (Solanum tuberosum, zones 3-10b) and tomatoes (Solanum lycopersicum, zones 5-8).
Many crops grown in temperate zones can be grown in the arctic provided they are housed in a greenhouse. This recent development can have a massively positive influence on food insecurity.