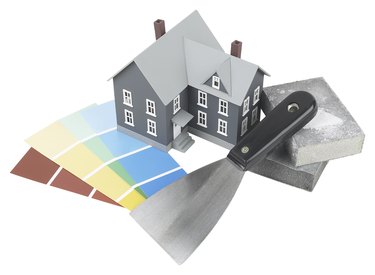 Painting the exterior of a home can be a daunting task. In choosing the exterior paint, consider the local climate and the surface being painted. Metal or wood surfaces need different paint types and finishes than aluminum or stucco. Regardless of the type of paint used, always prep a surface with a thorough cleaning regiment, such as a power wash. A clean, solid surface will finish with a more professional look.
Siding and Stucco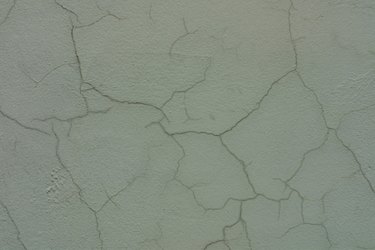 Flat paint hides blemishes and flaws on an exterior surface well. Choosing between flat and semigloss on these surfaces comes down to location and condition of the painted area. If the surface is damaged, dented or warped, flat will be the best choice. If the surface is in good condition, semi gloss provides more durability and washes easier. Areas close to dirt and trees or homes located in strong weather areas will be best served with a semi gloss finish regardless of their condition. Remember to choose the colors and type of paint--oil or latex--based on the surface being painted. The right combination of surfaces and paint types will prevent early wear.
Soffits and Gutters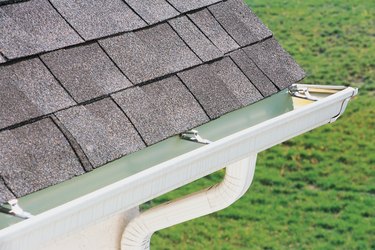 Regardless of the material used for the soffits or gutters, semi gloss is the best choice for these areas. Due to their active role in the protection and function of the house on a daily basis, these areas become dirty and worn more quickly than the main exterior walls. The durability of the semi gloss provides a better long term solution. The semi gloss can be cleaned to maintain the look and will not fade or chip as easily as the flat. Use an additive in the paint to prevent future mildew and reduce the need for constant cleaning.
Trim, Windows, and Shutters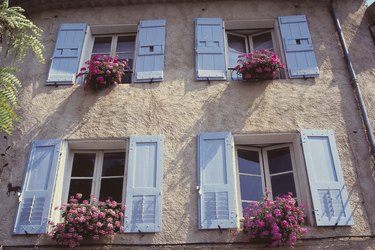 Semi gloss is the lowest sheen to be used on these areas. Seasonal cleaning and maintenance will cause flat paint to become chalky and worn. Semi gloss latex paint is a standard choice for most materials in trim and shutters. Consider the material, sunlight, and other external influences before choosing the paint for these details. Direct sunlight will fade dark colors which makes a semi gloss finish more crucial for a long lasting finish. Door trim will wear quickly and needs the strength of a semi gloss.
Coordinate the Look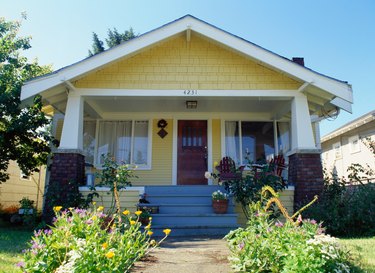 Keep the overall look of the home in mind when choosing the paint finish. A flat wall with semigloss trim will highlight architectural details. This is a great way to identify significant details that should stand out. If the trim is dated or an eyesore, keep it out of the line of vision by using the same finish and color of the walls. Keep in mind the neighboring homes and the overall style of the neighborhood. A flat, soft yellow could be welcoming in a subdued subdivision where the same shade in a semi gloss may be too bright for its surroundings.