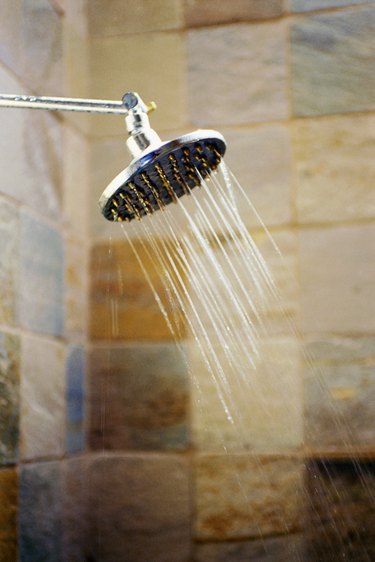 While difficult to distinguish which is better due to the variables involved, a few differences separate acrylic and tile showers. If you'd like to install one or the other, take into account the advantages and disadvantages each one offers. For your particular shower, tastes and budget, one may better suit your needs.
Acrylic Advantages
The advantages of acrylic shower bases are numerous and include affordability, easy installation and style. Acrylic shower bases come in all sorts of colors to match just about any shower and bathroom. Made of sheets of acrylic -- a plastic material -- they have both strength, corrosion resistance and are very light. As a one-piece unit, installing them is fairly easy because all you need to do is level the base and install the shower walls around the base. The entire installation takes about an afternoon.
Acrylic Disadvantages
A few disadvantages may swing your decision towards a tiled shower. Though acrylic shower bases are durable, they will crack and wear down over time. As the base flexes under the weight of your feet, small cracks form around the drain holes of acrylic bases, which causes water leaks, leading to rot and mold in the bathroom. If you do not want to remove and replace the base, repairing these small cracks is very difficult. Stains also accrue on the surface over time, changing the appearance of the base.
Tile Shower Advantages
A tile shower offers a solid, stable surface that will not flex or bend under the weight of the users. Tiled showers also provide a more sophisticated look because several different tile color combinations can combine in one shower, which allows for better color matching in the bathroom. The style and look of tile is often considered its biggest benefit aside from versatility. For instance, if you own an odd-size showering area, you can simply tile the entire space and not worry about purchasing a custom acrylic shower base.
Tile Shower Disadvantages
Some disadvantages loom in regards to tile showers. First, tile showers are more difficult to install than most acrylic shower bases and are more difficult to remove. A sloped, mortar shower underfloor is first installed and then grout is spread over the floor. Individual tiles are then fit into the grout. To remove the tile shower, the entire floor and walls are ripped up and discarded. Tile showers also accumulate stains on the grout in between the tile, and, if not installed properly, tile showers can leak.