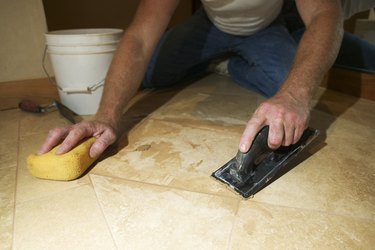 With its subtle, neutral shades of cream and beige, Crema Marfil marble is a smart, classic choice that never goes out of fashion. Whether your bathroom has Crema Marfil tile on the floors, shower walls or countertops, it's important to choose a wall paint color that complements your Crema Marfil tile.
About Crema Marfil
The name Crema Marfil is Spanish for "cream marble." Crema Marfil is extracted from quarries in and around the city of Pinoso in southeastern Spain and is prized for its creamy neutral colors. While there are several varieties of Crema Marfil, according to Spanish Natural Stones' website Crema-marfil.net, Crema Marfil coto and Crema Marfil zafra are the two most plentiful and widely available varieties. Although they are similar in appearance, coto is a yellow-toned beige, and zafra is a white-toned beige. Crema Marfil is finished in a number of ways, from highly polished for a sleek look to tumbled for a more natural, distressed look.
Determine Your Crema Marfil's Tones
Study your Crema Marfil's undertones. Although beige and cream are this marble's most prominent colors, it's important to identify less obvious undertones. Depending on the quarry where it was extracted and the slab from which the tile was cut, some Crema Marfil may have a yellowish appearance, while others may appear slightly orange, green or pink. When studying your marble's undertones, do so in the bathroom in which you'll be using the tile. Undertone colors can change from room to room, depending on the light.
Consider Your Room's Lighting
The lighting in your bathroom plays an important role in choosing a paint color. If you take a sample of your Crema Marfil tile to the paint store and coordinate it with paint swatches there, you may not be pleased with the result once you see it in the light of your bathroom. Before making a commitment to a paint color, bring home swatches or sample jars and test the top contenders side by side with the Crema Marfil in the bathroom.
Paint Color Options
Because Crema Marfil is so wonderfully subtle and neutral, it coordinates well with many, many paint colors. If your Crema Marfil has warm undertones, such as yellow or orange, just about any warm-toned paint color goes nicely with it. Consider golden tan, golden beige, chocolate brown, rust, pumpkin, warm red or a golden-tinted cream. If your Crema Marfil has cooler undertones, many cool colors will coordinate well, including spa blue, seafoam green, pink, green-toned grays, bluish grays and pinky beiges.