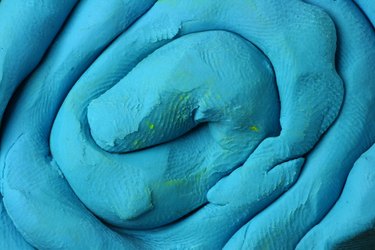 Whether you're a craft guru or six-year-old child, chances are you've come across clay dough. Inside the classroom or inside the home, a jar or two of modeling clay is sure to be found. One modeling compound was first discovered in a Cincinnati classroom in the 1930s when wallpaper cleaner was used to create clay. Remarketed two decades later, Play-Doh was born. Try saving yourself a few bucks by making the clay yourself with ingredients you already have at home.
Ingredients
Surprisingly enough, the basis for craft molding clay is incredibly simple. While a million different variations exist, you can make your own modeling clay with ingredients already sitting on the shelves inside your pantry. Typically, a craft clay recipe consists of a combination of salt, water, baking soda and cornstarch. While you can search the Internet for any number of recipes, it's best to play with the ingredients yourself to come up with the best combination.
Method
The process of making the modeling compound is as basic as the simplicity of its ingredients. Combine all of the ingredients in a medium saucepan and heat over medium heat. Stir constantly until the concoction thickens to the consistency of mashed potatoes. Be careful not to overcook or the mixture will become lumpy. Remove the saucepan from the heat and let it sit long enough until it's cool enough to touch. Remove the substance to a board and knead it until smooth. The final product will be a white-colored dough. If you're looking for something a bit more colorful, add food coloring to the mixture before turning on the stove.
Add-Ons
Once the clay substance is cool and kneaded, playtime has arrived. Gather up the kids and divvy up the dough so everyone has an equal portion. You and the gang can mold the dough into any shape or figure your heart desires. Add on beads, jewels, sequins, pieces of fabric or any other miscellaneous objects sitting around the house. You can paint clear nail polish over the final design to give it a glossy shine. Let it sit over night to harden and bake it in a 200-degree oven for an hour.
Baby Powder
While cornstarch is the basic for most modeling dough recipes, baby powder is also sometimes an ingredient in other types of clay and modeling compounds. While the basis for papier mâché is flour, baby powder can be used as a substitute as long as some other adhesive compound is used as well. Non-drying clay can also be made using clay powder, water, glycerine and talcum powder or baby powder.