Things You'll Need
Bowl

4 tbsp. corn starch

2 tbsp. cold cream

Spoon

2 tbsp. glow in the dark micro powder

Sealable container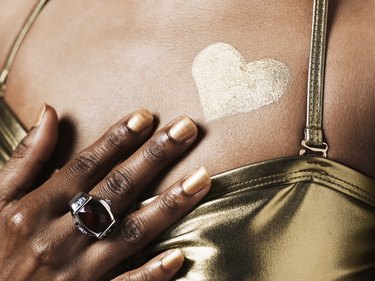 When you are painting your body to glow in the dark, such as for a costume party, Halloween or a theatrical production, skip store-bought paints that may contain harsh chemical ingredients, especially for those with sensitive skin types. Make your own glow in the dark body paint at home using a few ingredients that are gentle on the skin.
Step 1
Place a bowl onto a flat surface, and pour in 4 tablespoons of corn starch.
Step 2
Add 2 tablespoons of cold cream into the corn starch, and stir the mixture with a spoon for 5 minutes to combine the ingredients completely. Select cold cream that is unscented if you have sensitive skin.
Step 3
Add 2 tablespoons of water and 2 tablespoons of glow in the dark micro powder into the mixture, then stir the mixture again for an additional 5 minutes.
Step 4
Pour the homemade glow in the dark body paint into a sealable container, and store it in the refrigerator until use.
Tip
Add food coloring to the handmade glow in the dark body paint to color the paint, if desired.