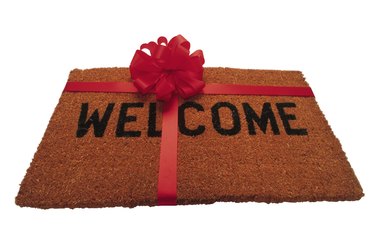 Housewarming parties are a joyous occasion. They provide an opportunity for homeowners (and apartment dwellers) to show off their new digs to family and friends. Its customary for invitees to bring gifts of either a functional or decorative nature. Don't go overboard with buying supplies for your housewarming party; guests typically expect to have to pitch in, so use the invitation to list what you need people to bring.
Invitations
Its necessary to put together a guest list in the beginning stages of planning a housewarming party. When creating the guest list, decide whether you want your party to be for adults only, or whether the event will be kid-friendly. Send out invitations at least three weeks in advance so that guests have time to RSVP and buy you a housewarming gift. If you've signed up for a gift registry, include all pertinent information on the invitation; if you haven't signed up for a registry, use a portion of the invite to tell guests what you'd like them to bring. Whether you send the invite through the mail or online, include the date you need everyone to RSVP by as well as a copy of directions to your new home.
Decorations
You'll need decorations at your housewarming party. Choose colors and patters that represent your personal style. Ideas include banners, balloons, streamers, candles and flowers. Don't worry if your home isn't yet fully decorated with your permanent decor; trust that your guests recognize settling in to a new house is a process. The purpose of a housewarming party is to celebrate your new space and envision the possibilities of your work in progress.
Refreshments
The right food and beverages will get your housewarming party going. Use your RSVP list to determine how many refreshments you should prepare; if everyone on your list hasn't responded, call the guests you aren't sure are coming so you'll know if they should be included in the food count. Give your guests a variety of nutritious and delicious foods, so that even those with special dietary needs will be satisfied. Don't feel as if you have to prepare all of the food yourself. Enlist family and friends to help; also, remember there is no shame in ordering out or picking up premade party platters with fruit, cheese, vegetables and dip for your guests to snack on. Offer water, juice and carbonated beverages for guests who don't drink liquor. Keep an eye on guests who might have consumed too much alcohol; have guests turn in their car keys if they feel like drinking, and make sure everyone has a sober driver to take them home.
Entertainment
You'll need entertainment at your housewarming party to make sure guests have a fun time. Create a music playlist beforehand and have a few games in mind that guests can play in case there's a lull in conversation or no one feels like dancing. If kids are coming, think of activities that will keep them happy and occupied.