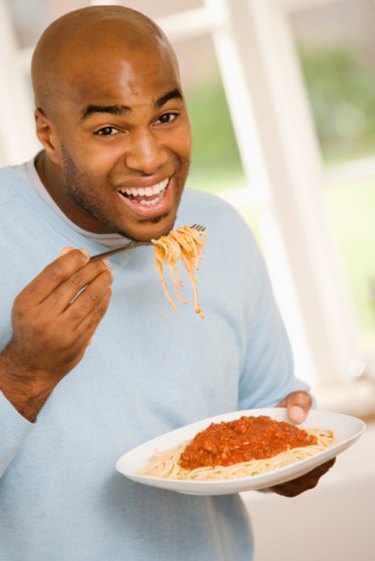 For a homemade flavor not found in cans or jars, making your own spaghetti sauce with fresh tomato juice meets the bill. However, starting out with a juice requires a longer cooking time for the sauce to thicken.
Spaghetti Sauce with Tomato Juice
Pour two tablespoons of extra virgin olive oil in a large pot and heat over medium-high heat until just barely smoking. Add one chopped red onion, one chopped green pepper, 16 ounces of sliced Portobello mushrooms and three cloves of minced garlic and cook, stirring constantly until the onions become translucent. Add 32 ounces of fresh squeezed or canned tomato juice to the pot and turn the heat down to medium. As the juice begins to bubble, add 16 ounces of tomato paste to help thicken. If you like a chunkier spaghetti sauce, chop three large tomatoes and add them to the sauce. Add 1/2 cup balsamic vinegar and 1/2 cup of sugar to the liquid, stirring until the sugar melts. Add the following spices to the pot: one tablespoon each of oregano, basil and parsley, two teaspoons each of thyme and fennel seed and one teaspoon of tarragon. Simmer, stirring frequently, for three hours or until the sauce has thickened to your liking.