Things You'll Need
White floral wire

Wire cutters

Yellow fondant

Waxed paper

Light green fondant

Fondant in your petal color choice

Rolling pin

Tulip petal cutter

Foam padding

Fondant ball tool

Fondant tulip veiner

6 spoons

Green floral tape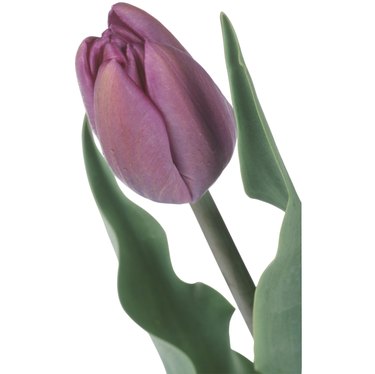 Make a bouquet of tulips with edible fondant petals to top a wedding cake or other special celebration dessert. Choose fondant colors that coordinate with the occasion's color scheme or bring a collage of color to the event with fondant tulips in every color. The fondant flowers are easy to make and can be made more than a week in advance to give you plenty of time to make the perfect bouquet. Fondant takes at least 12 hours to dry, so be sure not to leave the task to just hours before the party begins.
Step 1
Cut five pieces of white floral wire about 3 inches long. Fold over the top 3/4 inch of each piece. Mold small pieces of yellow fondant around the folded 3/4-inch piece of wire to make the tulip's stamens. Lay the stamens on a piece of waxed paper to dry.
Step 2
Cut another 3-inch piece of wire. Fold over the top 3/4 inch and mold a larger piece of light green fondant over the fold to make the tulip's pistil. Lay the pistil on the waxed paper to dry.
Step 3
Roll out a piece of fondant in the tulip petal color of your choice. Roll the fondant about 1/10 inch thick. Use the fondant tulip petal cutter to cut six petals from the fondant.
Step 4
Slide a 4-inch-long piece of white wire into the center of each petal.
Step 5
Transfer the petals to the foam padding. Use a fondant ball tool to thin the petals on each side of the wires. Thin the petals gradually more as you near the outer edges.
Step 6
Place each petal against a fondant tulip veiner and press gently to indent the veins onto the petals.
Step 7
Lay each petal on a spoon to give each petal a cupped shape. Let the petals dry on the spoons for at least 12 hours.
Step 8
Gather three of the tulip petals around the stamens and pistil. Wrap a piece of the floral tape around the wire stems, just underneath the petals.
Step 9
Arrange the remaining three tulip petals around the first layer of petals and wrap another piece of tape around the stems. Continue to wrap the tape all the way down the wires to give the tulip a green stem.