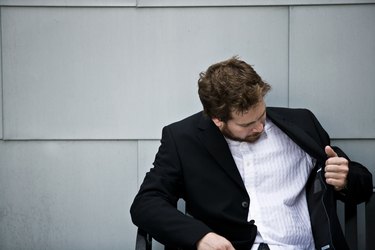 Sports jackets are made of sturdy, breathable and textured fabrics. These types of jackets might also have waterproof coatings. Like other jackets, sports jackets can be subjected to dirt and other stains. You can take your sports jacket to a dry cleaner to get it cleaned. However, professional laundry services can be expensive especially if your jacket gets dirty on multiple occasions. Fortunately you can clean your sports jacket at home by using a little detergent and your washing machine or by hand washing.
Things You'll Need
Stain remover

Laundry detergent

Plastic basin, optional
Step 1
Unzip every zipper in your sports jacket. Empty out all the pockets as well. Go through all your pockets again to make sure everything is empty. There is nothing worse than washing and ruining money or other important papers.
Step 2
Remove any stains on your sports coat before washing. Use a stain remover that is safe on the coat's fabric material. Purchase a stain remover specifically for sports coats and blazers. You can find these types of stain removers at your local drugstore, supermarket or home improvement store.
Step 3
Read the garment care label of your sports jacket for detailed washing instructions. Place the jacket separately in a washing machine using cold water and a small amount of laundry soap or hand wash as instructed. If the sports jacket doesn't have a care label, then submerge it in a large basin of cold water with detergent for 45 minutes.
Step 4
Rinse the sports jacket to get rid of any suds. You might have to do this twice if the sports jacket is thick. If you are hand washing, gently squeeze the water from the jacket. Never twist or wring since this can damage the waterproof coating your sports jacket might have.
Step 5
Place the sports jacket separately in a clothes dryer using the permanent press or low heat setting. Do not use high settings since this can also damage the waterproof coating. You can also hang the jacket to air dry overnight.