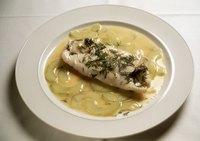 Perch is a type of freshwater fish that offers an excellent source of protein combined with low levels of calories and fat. One of the healthiest ways to cook perch is to broil it. Broiling uses dry heat, as opposed to frying, which infuses fish with fat and cholesterol. A perch fillet is a boneless piece of perch. You can easily broil perch fillet in a matter of minutes.
Things You'll Need
1/4 cup lemon juice
1/4 cup olive oil
1/2 tsp. garlic powder
Bowl
Salt and pepper to taste
Baking pan
Mix the olive oil, lemon juice and garlic powder in a small bowl.
Place 1 lb. of fresh or thawed perch fillets in a single layer inside a baking pan.
Pour the marinade over the fish. Add salt and pepper to taste, and refrigerate for 2 hours.
Place the pan in an oven that has been preheated on the "broil" setting. Position the pan approximately 4 to 6 inches from the broiler coils.
Broil the fish for about 7 or 8 minutes. Brush the fish with the sauce about halfway through the baking process.