Things You'll Need
Craft knife (optional)

Newspaper

Pencil sharpener

Bags or jars

Potato peeler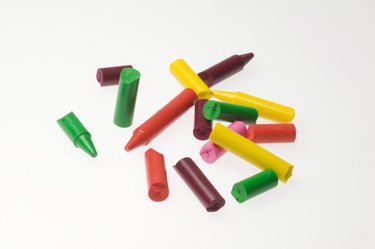 When you get your fresh, new package of crayons, don't throw away the old broken stubs when you can recycle them. They have a lot of craft project potential. Use them for shaved crayon crafts such as making place mats, sun catchers or painting candles. Making crayon shavings can be a bit of a tedious chore, but it's not difficult or dangerous if you have the right tools for the job. It just requires a little patience.
Shaving Crayons with a Pencil Sharpener
Step 1
Sort your old crayons by color. Peel the crayon wrapper off each one. If you have difficulty peeling the paper off, slit it with a craft knife so you can lift and grab an edge, then rip off the paper and dispose of it.
Step 2
Place a piece of newspaper or scrap paper on the surface. Work with one color at a time.
Step 3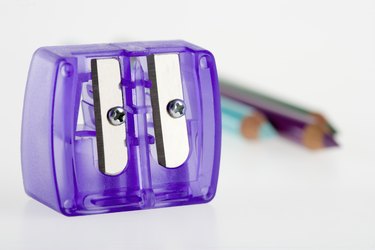 Insert the end of a crayon into a manual pencil sharpener. Use the type of sharpener found in a kid's school pencil case. Twist the crayon clockwise or in the direction that allows it to rub against the blade, rendering a fragile strip of shavings.
Step 4
Continue twisting until you're no longer able to do so. Reserve the ends of the stubs for other projects or discard them.
Step 5
Place the wax shavings of the same color in a small food storage bag or baby food jar to save them for projects. Repeat the process with the rest of the crayons you wish to shave.
Shaving Crayons with a Potato Peeler
Step 1
Rip the paper off your crayons and sort your colors. Cover your work area with a piece of scrap paper.
Step 2
Lay the crayon on the paper and hold one end down with your finger. Lightly scrape the blade of the potato peeler down the crayon from just below your fingers to the edge.
Step 3
Roll the crayon very slightly and drag the peeler across it again. Repeat and continue the movement until the crayon is shaved down to too small a stub to hold.
Step 4
Preserve the shavings in jars or bags, and preserve or discard the stubs for other projects.
Tip
If you're purchasing crayons for the purpose of shaving them, purchase the large crayons made for toddlers. About the size of a small carrot, they are easier to handle.