When you are making an art project using aluminum foil as the main craft material, the delicate foil can often tear or rip as you work. One solution is to reinforce the aluminum foil by gluing fabric onto it. Fabric will enable the foil to be folded and shaped as before, but will prevent the aluminum foil from tearing or ripping in the process. Glue fabric onto aluminum using materials that can be purchased at any art supply store.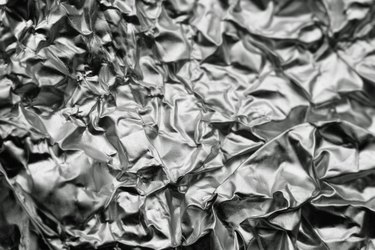 Things You'll Need
Scissors

Cotton Fabric

Newspaper

Tacky Glue
Step 1
Lay a sheet of newspaper over a table or counter top, which will protect the work area from damage.
Step 2
Cut out a 12-inch-by-12-inch square from cotton fabric using scissors. Place the fabric square on top of the newspaper.
Step 3
Spread a thin layer of tacky glue over the entire surface of the cotton fabric square.
Step 4
Tear off a sheet of aluminum foil, and drape the aluminum over the glue-covered fabric square. Avoid wrinkling or tearing the aluminum foil.
Step 5
Press a rolling pin onto the bottom edge of the aluminum foil, and roll the rolling pin back and forth two times to press the foil against the fabric firmly. Allow the glue to dry for 20 minutes.
Step 6
Trim off the excess aluminum foil from around the edges of the fabric using scissors.