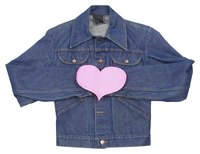 Using fabric dye on a faded denim jacket is a creative way to give the item new life and extend its wear. Since most denim is made from cotton, it is an ideal candidate for dyeing, but dye cannot change a fabric from dark to light color. Dye your jacket in shades of blue deeper than its previous color or in dark colors like brown and black. Many denim jackets' stitching is in a contrasting color to highlight it as a decorative feature, and those highlights will be lost when you dye the jacket.
Things You'll Need
Chlorine bleach
Laundry detergent
Place drop cloths in your work area. Wear rubber gloves and old clothes or a protective apron. Prepare a cleaning solution of one part water and one part chlorine bleach in case there are spills.
Fill your washing machine with hot water. To dye one denim jacket, fill the machine on a medium setting. The jacket should have enough room to move freely in the water.
Dissolve two or three packages of powdered dye in 2 cups of hot water and pour it into the washing machine. If using liquid dye, pour one to one-and-a-half bottles directly into the washing machine.
Soak the jacket in hot water. Smooth out wrinkles or folds and place the jacket in the washing machine.
Wash on a cycle that provides at least 30 minutes of agitation before rinsing.
Set the washing machine for a cold-water rinse. Repeat several rinse cycles until the water is clear.
Wash the jacket with laundry soap, using a short cycle. Wash deep or dark colors in warm and lighter shades in cold. Rinse in cold.
Hang the jacket to dry or place it in the dryer and treat as usual.
Set the washing machine for another wash cycle with hot water. Add 1 cup of chlorine bleach and laundry detergent equivalent for one load. Pour some of the wash water through the machine's lint trap or soap dispenser.