Things You'll Need
Books or cutting board

Sandpaper

Dry rag

Gesso

Wide, flat paintbrush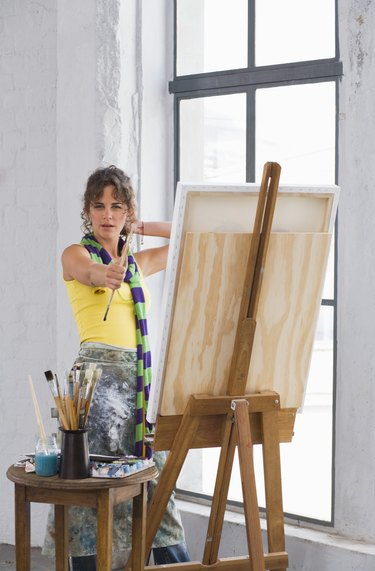 Whether you are a hobby painter or a professional artist, you can erase old, painted canvases and prepare them for new masterpieces. This recycling technique is less expensive than purchasing a new canvas and can be completed in about the same amount of time it would take you to drive to the store and purchase a new one. Reap the benefits of reusing canvases by purchasing old cast-offs at local yard sales and thrift stores.
Step 1
Lay your used canvas on your work surface with the painted side facing up. Slide books or a cutting board under your framed painted canvas to fill the void inside the wood frame of the canvas and provide support.
Step 2
Sand the painted surface of the canvas to smooth out the texture of the previous painting's brush strokes using sandpaper.
Step 3
Wipe the sanded surface using a clean, dry rag.
Step 4
Paint over the image on the surface of the canvas using a primer of gesso and a wide, flat paintbrush. Allow the gesso to dry. Repeat with a second coat, if needed, for complete coverage. The canvas is now ready for your new painting.
Tip
Gesso is an artist's primer used to prepare the surface of canvases for painting.