Things You'll Need
Design template

Computer (optional)

Printer (optional)

Tape

Wood burner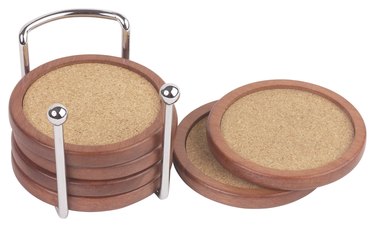 Turn a simple cork coaster into an elegantly designed piece of home decor by burning a decorative design into the cork surface. You can use any simple line drawing or simple illustration to trace onto the coaster. Personalize the coasters using a monogram initial for decorative gifts. Apply a frame border design, or simple image to match your decor. This project takes very few materials and the process takes only a few steps to complete.
Step 1
Locate and download a design onto your computer, size the image to fit the size of your coaster using an image editing program and print. Choose a simple line design. Alternatively, create a hand-drawn design to the size you need.
Step 2
Place the design face up and centered on the coaster. Tape the design to the coaster, or to a surface surrounding the coaster, to keep it from shifting while working.
Step 3
Place a pointed tip into your wood burner in the size that will accommodate the line width in your design.
Step 4
Plug in your wood burner and allow it to heat up.
Step 5
Trace over your design using the wood burning tool. Start in a corner of the design, and place the tip of the wood burner onto the paper and begin tracing. The wood burner will burn through the paper and leave an impression on the cork underneath. Drag the wood burning tip across the surface, moving at a steady pace. Avoid keeping the tip in one place for too long. Trace the entire design.
Step 6
Remove the tape and paper design from the cork.
Step 7
Trace over the impression that you created on the cork with the wood burning tool to create dark and even lines.
Tip
It is natural for the paper and cork to create smoke when being burned with the tool. Work outdoors, if preferred, to avoid smoke indoors. Work slowly but keep continuously moving when burning with the tool. Keeping the wood burner in one place for too long will create a large burn splotch on the surface. Use different tips to create details or make smaller and larger lines in your design. Allow the tool to cool completely in between tip changes. Reuse the supplies and apply the same techniques to burn other cork items around the home, such as corkboards, wall tiles and other items made of cork. If you want to reuse your design, use graphite transfer paper to transfer the image onto the cork.
Warning
Use extreme caution when using the wood burner. Do not leave the wood burner unattended, and make sure you place it on a non-flammable surface when not in use. Use a wood burner stand to keep the tool upright and off the surface. Do not allow children to use wood burners. Keep them away from the work area to avoid accidental injury.