Things You'll Need
2 to 3 teaspoons corn starch

Bowl

Spoon

1 cup water

Pan

Rope

Paper towels

Cardboard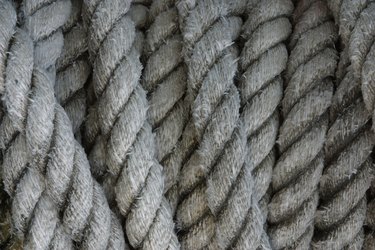 You can use rope in a variety of different arts and crafts projects, such as decorative art outside your home. Stiffening rope can help it keep a specific shape for your project. One of the simplest ways to stiffen craft material is to use corn starch. Mixing water and corn starch creates a thick mixture that soaks into cloth and other materials such as rope. Once the starch dries, it makes the material stiff.
Step 1
Dissolve your corn starch in a bowl with one tablespoon of cold water, stirring it to help the dissolving process. Set the bowl aside.
Step 2
Heat your cup of water until it boils and add your corn starch mixture into the water. Remove it from heat and stir the water until it thickens to the consistency of pudding.
Step 3
Place your cardboard on a table and cover it with paper towels. Put your corn starch mixture onto the table near the cardboard.
Step 4
Soak the rope in the starch mixture, then remove it and set it on the paper towels. Place the rope into any position you want and then let it dry for several hours.
Tip
Increase the recipe for the corn starch if you are using longer rope pieces. Experiment with different amounts of starch and water, as well as the ratios, to find the exact stiffness you want.