Things You'll Need
Scissors

Safety pins

Quilting thread

Embroidery needle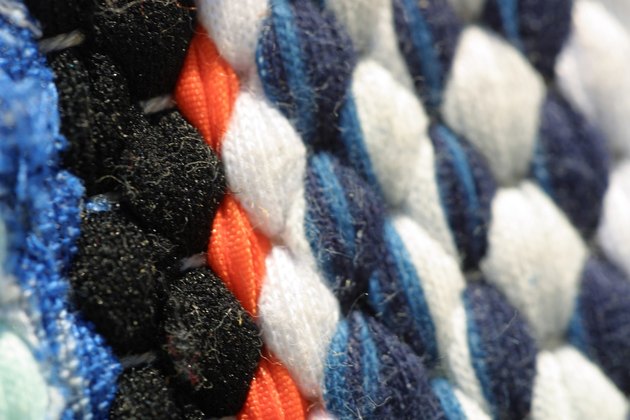 When you have a lot of used and worn out denim jeans, you may think that you need to toss the jeans into the garbage. However, used jeans can be used to create a whimsical and useful handicraft, such as a rag rug. This enables you to make use of old jeans while creating a rug that can add to your home decor. Make a denim rag rug utilizing a few basic craft materials.
Step 1
Use scissors to cut strips out of old denim jeans that measure 3 inches wide by 12 inches long each. Sew the strips together, end to end, to create three long denim strips that each measures 3 inches wide by 84 inches long.
Step 2
Pin the three strips together at one end with a safety pin.
Step 3
Braid the three denim strips into a tight braid. Pin the end of the braid together with a second safety pin.
Step 4
Lay the denim braid flat on the floor, and curl the braid into a tight spiral. This will create seams in between the coiled braid. Pin the spiral in place at the seams.
Step 5
Sew along the pinned seams using quilting thread and an embroidery needle, starting at the center of the spiral and working your way toward the outside edge. Remove the safety pins.
Step 6
Tuck the end of the braid underneath the rag rug, and sew it in place.