Things You'll Need
Elastic

Tulle

Scissors

Pins

Sewing machine

Thread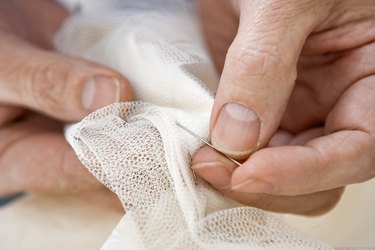 Sewing tulle onto elastic seems like a simple task, but it can be a little trickier then it appears. You can make a casing for the elastic, but if you want your tulle gathered and layered, this will not work. If you sew straight onto the elastic, the sew line will lock the elastic in place and the elastic will not stretch. The best method to use is a stretch and sew technique. It can be a little awkward at first, but once you get the hang of it you will be able to do it with ease.
Step 1
Cut the tulle and the elastic with the scissors to the length desired. Lengthen the stitch length on your sewing machine.
Step 2
Fold the piece of elastic in half width-wise. Place a pin in the elastic at the fold, marking the center of the elastic. Fold the elastic from one end to the center pin and place a pin at the fold. Fold and pin the other side of the elastic in a similar manner, dividing the elastic into quarters. Fold and pin the area of the tulle requiring the elastic the same way.
Step 3
Place the elastic on the wrong side of the tulle where you want to add the elastic. Tack the end of the elastic to the end of the tulle.
Step 4
Position the sewing machine needle down into the elastic and the tulle. Stretch the first part of the elastic until the pin on the elastic meets the pin on the tulle, being careful not to stretch the tulle. Sew the elastic to the tulle until you reach the pins. Stretch the next section of elastic and sew. Repeat the stretching and sewing to the end of the tulle.
Tip
Practice on scrap tulle and elastic before sewing your garment. You can sew the elastic on either with a long straight stitch or a zigzag stitch.