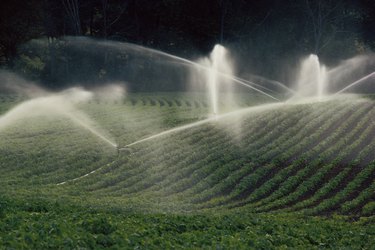 A James Hardie Rain Dial irrigation timer hooks up to your irrigation system and tells it what time, for how long and on what days to water. Once the timer is installed, connected to the water valves and hooked up to a power supply, you might experience problems with watering days, power loss and non-responsive water valves. You can correct these problems with basic maintenance, setting changes and rewiring.
Step 1
Locate the valve manifold box and remove the lid, if one or more valves fail to activate when scheduled. Gather the common wire connection from the timer to the valve wires. This will look like a group of color-coded wires, including a white wire. The wires should be joined with a watertight splice connector. Unscrew the splice connector and confirm that the wires are each stripped of a half-inch of insulation and are all touching. Screw the splice connector back on.
Step 2
Pull open the Rain Dial panel and inspect the wire connections to their terminals. Pull each wire, including the white one, out of its terminal. Inspect the wires to confirm that they are stripped a half-inch, and reinsert them into their respective terminals.
Step 3
Move the switch at the bottom of the Rain Dial from "Off or Stop" to "Run or Manual." If the switch is in the "Off" mode, the schedule will fail to execute, regardless of how many programs are scheduled.
Step 4
Unplug the Rain Dial from its power source to reset the connection, if the display is blank or looks weird. There might have been a power surge. Then plug the Rain Dial back in. If the display remains blank, find the circuit breaker that controls the Rain Dial and flip the switch to "On."
Step 5
Twist the control dial to "Skip Days," if the Rain Dial waters on the incorrect skipped days. Confirm that a "2" is featured within the display if you wish to water every other day. If you wish to water every third day, press the "+" button, until "3" is featured within the display.
Step 6
Twist the control dial to each individual day on the left side of the panel, to confirm the water days, if the water days are incorrect. Start with "Sunday." Look in the display to see if "On" or "Off" is listed there. If you wish to remove Sunday from the watering schedule, press the "+" button until "Off" is displayed. Repeat the process for the remaining days, until the watering days are correct.