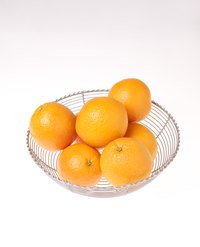 Oranges studded with cloves, also known as pomanders, make lovely holiday gifts. They create an inviting citrus-spice aroma that fills the whole house and are pleasing to the eye. Put oranges studded with cloves in closets or drawers for a fresh scent, or decorate the pomanders with ribbon to hang in a hallway. They can also be put into a basket for a beautiful centerpiece.
Things You'll Need
Toothpick
1 1/2 tbsp. ground cinnamon
1 1/2 tbsp. ground cloves
1 1/2 tbsp. ground nutmeg
1 1/2 tbsp. ground ginger
1 1/2 tbsp. orris root powder
Bowl
Tissue paper
2 feet ribbon
Puncture the orange with a toothpick just enough to go through the outer rind. You do not need to puncture the fruit itself. Place a whole clove in each hole you make. Create a pattern with the whole cloves, or simply stud the entire orange with cloves.
Mix together 1 1/2 tbsp. of ground cinnamon, 1 1/2 tbsp. of ground cloves, 1 1/2 tbsp. of ground nutmeg, 1 1/2 tbsp. of ground ginger and 1 1/2 tbsp. of orris root powder in a bowl. Alter the recipe if you are going to make more than one pomander.
Place the orange studded with cloves into the spice mixture. Roll it around so it is coated evenly.
Dry the pomander for two weeks. Wrap the pomander in tissue paper, and store it in a dry, cool area.
Tie a 24-inch piece of ribbon around the orange the same way you would wrap ribbon around a gift. Place the ribbon on a hard surface, with the orange in the center of the ribbon. Pull the ribbon over the orange, and twist it so it is going in the opposite direction. Turn the pomander over and tie a bow, leaving the ribbon resting on the orange.