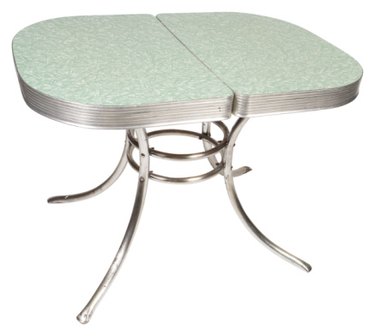 Formica tables were very popular in the 1950s up until the 1980s. They were constructed of chrome plated metal framing and had a vibrant Formica top, usually with outlandish patterns. If you plan to recreate a kitchen from these eras you can purchase a new Formica table or you can take a little extra time to source a vintage Formica table from a reseller. If you happen to have a Formica table from that era and you have no idea what you should expect to receive upon sale, you can complete a bit of research to find out.
Pricing to Purchase
Step 1
Measure the area you have available for the Formica table with a tape measure. If your current table is the correct size, you can simply measure it. Pricing a table that's too large won't help you when you go to purchase. Provide the correct information to a sales representative to ensure you get the most accurate pricing for what you want.
Step 2
Determine if you want matching chairs to go with the Formica table. In many cases, the tables have chairs with matching or complementary patterns. You'll spend more money if you purchase the chairs with the table but it may help to complete the look you're trying to achieve. In the end, purchasing the table with the chairs can save you money rather than purchasing them separately.
Step 3
Contact local or online vintage furniture resellers. According to Apartment Therapy.com, TINI Furniture, Century Modern and OC modern are among the best online resellers. Advise the vintage dealer of what you're looking for. In many cases, if they don't sell what you need, they can give you the contact information for a person who does sell what you want.
Step 4
Visit local big-box retailers such as Walmart, Target, Ikea or Kmart and inspect their selection. Although Formica furniture is not extremely popular, you can still find it at retailers. However, in many cases, it will lack vintage appeal. Use your measurements taken in Step 1 to price tables that will fit within your allotted space.
Pricing to Sell
Step 1
Take an honest assessment of your table. If it's a newly constructed piece, look for any scratches in the Formica or pitting in the table's chrome. If you see any blemishes, consider selling for less than half of a comparable table's retail valve. If the table is from an early era, expect patina. Patina is natural pitting in the chrome and even a mild lack of gloss on the Formica. If you have a slight patina, you can expect top dollar. If your patina borders on excessive wear, you can expect to get much less when selling.
Step 2
Research websites that offer comparison prices for Formica tables (listed below in Resources). If your table is not vintage but of newer construction you can price your table within the range of pricing you see on the sites. Staying on the lower end is a good idea as your item is used, even if it's in like-new condition.
Step 3
Browse vintage furniture stores and price Formica tables that compare to the one you have. Look at the patina on the tables and check to see if matching chairs come with them. If you price tables with matching chairs, make sure you have chairs to go along with your table. If not, your asking price should be lower than the cost of the comparable tables.
Step 4
Contact vintage furniture sellers in your area and arrange an appraisal. Appraisals generally come with documentation from the appraiser to validate what he told you. If your appraiser won't offer written documentation, seek out a different appraiser. Keep in mind that an appraisal often costs money.