Things You'll Need
Shoe box

Pencil

Scissors

Glue

5 rubber bands

Paper towel roll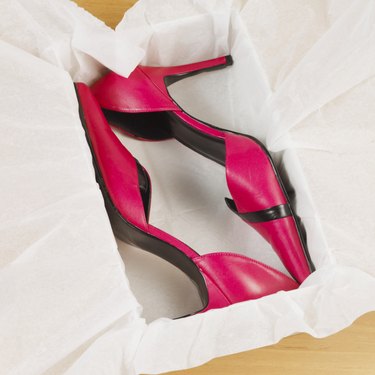 A sitar is a old-fashioned musical instrument from India that is similar to a guitar. A sitar is typically smaller than a guitar, with a wide body where the strings of the instrument are plucked. You can make a toy sitar at home using a few basic materials and tools, many of which you may already have on hand. This project can serve as an educational exercise for children learning about different musical instruments.
Step 1
Find a shoe box to use and make sure it is empty. Take the top off the box and draw a long oval on the front, making the oval go to about 1 inch from each of the four edges.
Step 2
Cut the oval out of the box top. Place a line of glue around the inner edge of the box top and place it onto the box. Lay the box down on a table until the glue dries.
Step 3
Wrap five rubber bands around the box to make the strings of the sitar. Make sure each rubber band sits over a portion of the opening made from the cut-out oval.
Step 4
Place a line of glue around one end of an empty paper towel roll and place it at the top of the shoe box to make the handle of the sitar. Hold it in place until the glue dries.
Tip
Paint the shoe box before putting the rubber bands on to add flair.