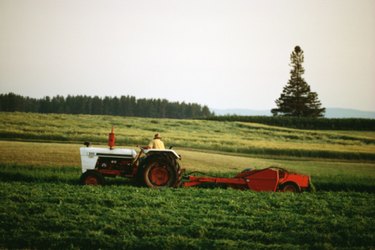 Plows are used for agricultural purposes. Plowing fields is part of the planting process, and knowing the length of your plow allows you to determine how many horses will be needed if you are using horses to pull the plow. The standard plow sizes are 8 inches, 10 inches and 12 inches. You must use one horse for an 8-inch plow, two for a 10-inch plow and three for a 12-inch plow.
Step 1
Place the plow so that the landside or the side that makes contact with the ground is set on the ground.
Step 2
Place the tape measure at one end of the landside.
Step 3
Pull the tape measure across the entire width of the landside of the plow.
Step 4
Record the measurement of the length of the landside in inches or feet. This is the length of the plow.