Things You'll Need
1/2-yard burlap fabric

50-inch long cotton cording

Heavy-duty scissors

Thread

Sewing machine

Bodkin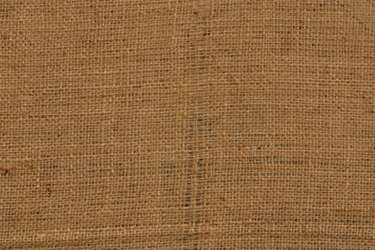 People have used burlap potato sacks for centuries to store their potatoes in cellars and kitchens. Distributors transported potatoes in very large potato sacks. Burlap fabric has an open weave that allows air to circulate and maintain dryness. Your potatoes will retain their freshness for a longer period when kept in a burlap sack. Make your own burlap potato sack with inexpensive supplies and basic sewing knowledge to store up to 10 pounds of potatoes at a time.
Step 1
Purchase burlap fabric that is at least 60 inches wide and 1/2 yard in length. This will make a bag that is 30 inches long by 15 inches wide.
Step 2
Place the fabric on a surface and fold the fabric in half lengthwise. The long ends are the sides of the bag and the fold is the bottom. Add pins along the length on both sides to secure the sides together.
Step 3
Stitch the sides of the bag using a 1/2-inch seam allowance using a small stitch. Then stitch another seam using a 1/4-inch seam allowance. Add two lines of stitching to each side to prevent the open-weave of the fabric from fraying and coming apart. Back stitch the end of each seam to secure the end of your stitches, and then cut off excess thread.
Step 4
Fold a 1-inch pocket along the top edge of your bag, folding it to the inside of the bag to create a casing for the cording, and add pins to secure. Stitch the pocket closed using a 1/4-inch seam allowance. Make sure the pocket you sew is wide enough to accommodate your cording. Leave at least 1-inch unstitched length on one of the sides of the bag so you can add your cotton cording through the casing.
Step 5
Attach a bodkin on the edge of the cotton cording. A bodkin is long, thin metal clamp that attaches to the edge of cording and is used to assist in pulling cording through a casing. Push the bodkin through the unstitched area of the pocket and pull it through the casing until it comes out through the other end. Pull the two pieces of cotton cording until they are the same length, and tie a knot on the ends. Add your potatoes, then pull the cords to cinch the top of the bag closed.
Tip
Avoid using sewing scissors to cut burlap fabric, as the rough texture can damage the blades.
If you do not own a bodkin, use a large safety pin for pulling the cording through the casing.
Warning
Use caution when sewing with a sewing machine.