Things You'll Need
Fabric

Rit Dye (liquid or powder)

Small container

Spoon

Container for dyeing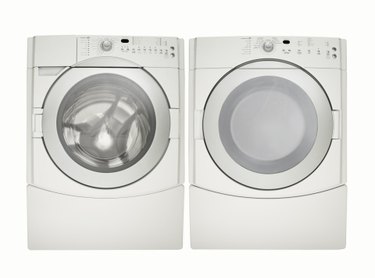 Dyeing fabric at home provides you the opportunity to get the exact color that you want. While most fabrics are dyed in hot or warm water, if you wish to experiment with cold water, there are steps you can take to make your fabric turn out the way you want. Cold water dyeing will create a less saturated color than warm or hot water. Rit is a popular brand of dye that can be found at many home and fabric stores. It can be used in buckets, sinks or your washing machine to dye fabrics numerous colors.
Step 1
Stir your Rit Dye in a small container filled with hot water until it is completely dissolved. Check the packaging to find out exactly how much dye to use for the amount of fabric you wish to dye. Allow the dye mixture to cool once it is all dissolved.
Step 2
Wet the fabric completely with cold water.
Step 3
Place the dissolved Rit Dye into a container that is sized suitably for your fabric, such as your washing machine, sink or a large bucket. Fill the container half-full with cold water.
Step 4
Add your fabric to the container. Make sure that it is completely submerged in the water and dye mixture. If necessary, add more cold water to top it off.
Step 5
Allow the fabric to sit in the dye mixture for at least 30 minutes before removing and rinsing with cold water until the water runs clear. Allow the fabric to dry completely before washing.
Tip
Pre-test a small amount of fabric before dyeing the rest to make sure that the color turns out the way that you want it to look.