Things You'll Need
1-gallon milk jug

Water

Soap

Knife

4 to 6 cups sand

Acrylic paint

Glue

Wrapping paper

Scrapbook paper

Sponge

Tea light candle

Matches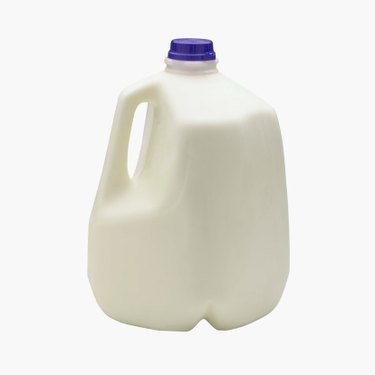 Save your milk jugs once they are empty so you can transform them into beautiful decorative luminaries. The opaque surfaces of the jugs are perfect for allowing candlelight to shine through with a warm glow. Leave the milk jug surface plain to take advantage of this effect, or decorate it with paints or decorative paper to add color and texture to your luminary's glow. Display your milk jug luminaries along walkways and garden paths or on a front porch.
Step 1
Remove any labels from the outside of an empty 1-gallon milk jug. Discard the labels and the lid. Wash the outside and inside surface thoroughly with soap and water. Rinse the milk jug and let it sit to air-dry.
Step 2
Cut the top off the milk jug using a knife. Leave the jug handle intact; remove only the front portion of the top of the jug.
Step 3
Pour 4 to 6 cups of sand through the opening of the milk jug until there is a 1-inch layer of sand in the bottom of the jug. Grasp the jug's handle and shake the jug back and forth to even out the layer of sand.
Step 4
Decorate the outside of the jug by painting designs on its surface with acrylic paint or gluing on pieces of wrapping paper or scrapbook paper. Use a sponge dipped in paint to dab a textured pattern over the entire surface. Cut out decorative shapes from the paper to create windows for the light to shine through.
Step 5
Set the decorated luminary in the desired spot for display. Set a tea light candle inside the luminary so it is resting in the center, on top of the layer of sand. Light the candle with a match and watch the luminary glow.
Warning
Never leave burning luminaries unattended.