Things You'll Need
12-inch polystyrene foam cone

Decorative container or pot

Glue gun

Glue sticks

Floral picks

Pine cones, various sizes

Leaves or artificial moss

Oranges

Channel knife

Tack nail

Cloves

Tree trimmings, pine sprays or berry sprigs

6-inch polystyrene foam ball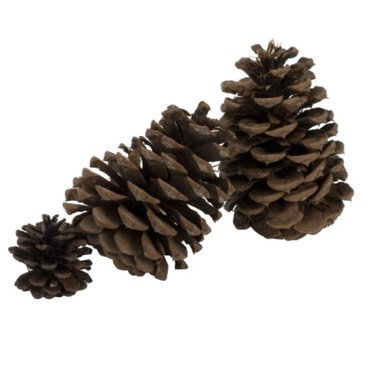 Natural items like pine cones, fruit, tree trimmings and twigs can be transformed into Christmas ornaments with a little time and effort. In less than 30 minutes, even novice crafters can create a nature-inspired table ornament, holiday centerpiece or Christmas tree topper. Once completed, you can display these ornaments in your home and let their natural beauty shine or embellish each work wok with ribbon, glitter and paint. Either way, the final piece is sure to be unlike any other.
Table Ornament
Step 1
Glue the polystyrene foam cone into the container using a glue gun. Allow the glue to dry completely before continuing.
Step 2
Fasten floral picks to the bottom of selected pine cones using glue. Don't be afraid to use large globs. You need a sturdy base to secure the picks, and the attachment spot will be concealed in the final product.
Step 3
Attach the pine cones to the foam cone. Insert each pin downward into the foam, and check that it is secure before moving on to the next piece. Place the pine cones close together to hide the underlying foam. Use larger cones around the base and smaller ones toward the top.
Step 4
Cover any exposed foam at the base with moss or leaves. Dribble adhesive around the area with the glue gun, and sprinkle the moss on top.
Centerpiece
Step 1
Etch patterns into the oranges with a channel knife. Carve into the rind without cutting all the way to the underlying fruit flesh.
Step 2
Punch guide holes along the exposed pathways using a tack nail. Place the holes close together, about ¼ inch apart, for a solid look, or space them further apart for a dramatic flair.
Step 3
Insert cloves into the holes studding the fruit.
Step 4
Arrange the display. Creatively present the oranges among a bed of tree trimmings on a platter or serving plate. Accent the piece with small pine cones and sprigs of berries if you like.
Tree Topper
Step 1
Create an opening inside the ball so you can secure it to the tree. Stick the bare polystyrene foam ball onto the top of your Christmas tree. Apply enough pressure to create a space at least 1 inch deep before removing.
Step 2
Glue floral sticks onto pine cones of varying size. Use as much glue as necessary to ensure a secure hold, and allow the pieces to dry before continuing.
Step 3
Push the sticks into the foam to create the desired look. Avoid obstructing the slot you made in Step 1.