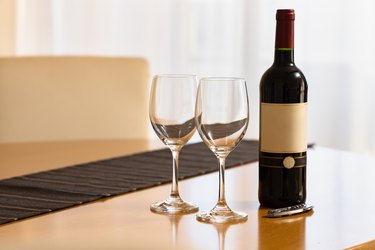 There is more than one way to cut a glass bottle or a piece of glass whether you need to do it for an art project or something else. Most experts prefer using an actual glass cutter for bottles; these tools have super-strong diamond carbide blades and a small table with attachments to hold the bottle in place. Another more interesting and exciting option is cutting glass with string, but how do you do that?
Cutting Glass With String
The glass string-cutting method uses just a few things you probably already have sitting around your house. Wrap the string tightly around the bottle several times and tie a knot at the end. Slide this off, soak it in an acetone container and put on a pair of fireproof gloves. Once the string is saturated, put the string back on the bottle.
Have a lighter nearby and pick up the bottle with a pair of pliers. Holding the bottle as far away from yourself as possible, light the end of the string with a lighter. Carefully rotate the bottle as the string burns and right before the flame burns out, dunk the bottle into an ice water bucket. The bottle should crack evenly along the string if you did everything correctly.
Important Safety Precautions
As a note of caution, it is a good idea to do this outside. No matter where you do it, though, make sure there is nothing flammable nearby, like dry leaves or fabric. Wear protective gear, like safety goggles, gloves and closed-toe shoes.
Children and pets should be far away when you're working with fire. Little ones should know that this is something that only grownups can do and that it is not a trick or a game to play with friends.
You can also use a pair of scissors to cut flat glass as long as the piece with which you are working is no more than 3 millimeters. Mark the glass where you're planning to cut it and immerse it in warm water. You should be able to cut it with a regular pair of tailor's scissors but ensure that you wear thick gloves to protect your hands. You can put larger pieces of glass in a bathtub.
If you're very precise, you can even use this method to cut out shapes. To do this, draw the shape on a piece of flexible plastic and cut it out. Glue that plastic onto the glass, submerge it and cut carefully. The third option is to use a small file and a soldering iron. Mark the area you want to cut with a sharp tool or marker and use the file to make an indentation on the edge. Heat the soldering iron and guide it slowly and firmly along the mark; the glass will soon crack.
You can also use wire to cut glass. Mark or score the area you want to cut, get a pan and fill it with 3 inches of water. Get a piece of wire that is a few inches longer on both sides than the cut length and make a loop on each end. Use two wooden dowels in the loops to hold the glass. Heat the wire until it becomes red hot and lay it up against the line you made. Immediately dunk the glass in the water and the heat/cold will break the glass.