Things You'll Need
Zipper-sealed plastic bag or plastic storage container with an airtight lid

Polystyrene foam container

Frozen gel packs or dry ice

Sturdy, corrugated cardboard box

Packing tape

Marker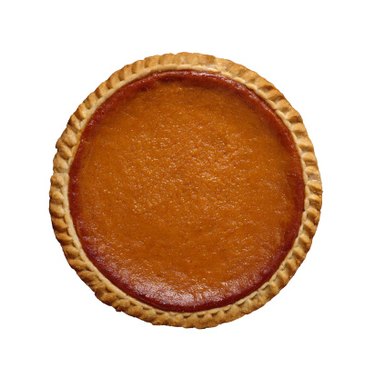 Surprise a far-away friend or loved one to one of your homemade pumpkin pies as a Thanksgiving treat. If a family member is away from home for the holiday season, he'll appreciate the delicious gesture. Pumpkin pies are delicate and perishable, so follow shipping guidelines when sending the baked good. Avoid shipping the pie during periods of warm weather, use plenty of padding and choose an expedited shipping option for best results.
Step 1
Allow the homemade pumpkin pie to thoroughly cool before packaging it. Place the pie into a large, zipper-sealed plastic bag or a plastic storage container with an airtight lid. Store the pie in your refrigerator until you are ready to ship it.
Step 2
Pack the pie into a polystyrene foam container filled with frozen gel packs or dry ice. Place the container into a sturdy, corrugated cardboard box.
Step 3
Seal the box tightly with packing tape. Write "Perishable Item: Keep Refrigerated" on the top and sides of the box.
Step 4
Send the pie immediately through a shipping service, such as FedEx or the United States Postal Service, using the overnight shipping option.