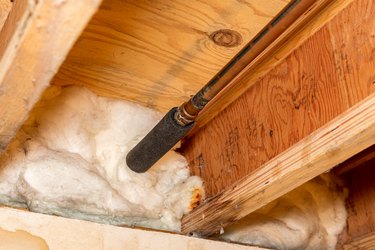 Quality manufactured and installed insulation can last as long as 20 years but sometimes has to be upgraded or replaced. One reason for this is mold on insulation, and if it is the toxic black kind, you need to take action as soon as possible. You might have this problem in your house without even realizing it, and your family could be feeling the symptoms.
Telltale Symptoms of Mold on Insulation
It is common for people to experience health issues when there is mold on their insulation. It feels similar to how people feel when they catch colds or have allergies, including itchy eyes and skin, asthma, coughing, feeling tired and a sore throat. Everyone gets sick occasionally, but if these symptoms last more than a few weeks, they could be from untreated mold.
Mold grows in dark and damp places, preferring wood, furniture stored in attics, bathrooms and insulation. Mold also has a unique, musty smell that can make you gag. Some compare that smell to wet newspapers or dirty laundry. If the smell is more pungent in different sections of your home, you could have mold in your attic, mold on insulation in your basement or elsewhere.
Finding Mold in Your Home
Not all mold is toxic, but most species will cause materials to rot. If you think you might have mold in your home, an excellent first step is to get a sharp tool, like a screwdriver, and use it to poke around. Should you find a suspect area, push the screwdriver into it. Mold-infested wood is soft and can crumble. Be sure to check everywhere, from your attic to your crawl space to your basement, because a plumbing leak can eventually lead to mold and mildew growth practically anywhere.
Mold usually does not grow directly on attic insulation since fiberglass is not a viable food source. You are more likely to find mold on the top surface of attic insulation sheets, and you might see the spores or growth on settled dust. This growth can happen with leaky roofs and looks like a black or thin, spotty gray layer spread out in different patterns.
To get a closer look at the suspected mold, use a flashlight and a magnifying glass. Wear protective gear, like goggles, gloves and a mask, just in case. Toxic black mold on insulation can also look green or gray in the middle with white edges before it turns black. It is best to hire a professional mold removal company, especially if anyone in the home is sensitive to mold or has a medical condition.
Moldy and Dirty Insulation
Insulation sheets are generally white, and if the suspected mold you see on it is yellow, orange, brown or pink, it could be another kind of mold or dirt. In any case, avoid touching it. You may need to remove this insulation and replace it with new materials. In some cases, the top few inches can be removed and retrofitted, but this might cost more than replacing all of it in the area.
Often, the mold or dirt you find and worry about is harmless. In any case, you should not try removing it yourself just in case it is dangerous black mold. The safest move is to call in the professionals because it is always better to be safe than sorry.