Things You'll Need
Cookie sheet or jelly roll pan

Newspapers

Drill with 1/16-inch bit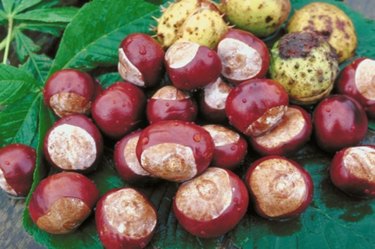 Buckeyes are considered good luck. Some people carry them in a pocket or purse, but there are other uses for them. String them with alternating red and gray glass beads for a necklace popular with Ohio State University students and alumni, make them into a garland to decorate your home or use them in a decorative arrangement of fruits and nuts. Buckeyes are named for the distinctive white "eye" on one end that resembles a male deer's eye.
Step 1
Gather the mature nuts from the ground and remove the outer husks.
Step 2
Line the cookie sheet or jelly roll pan with newspaper.
Step 3
Drill a hole in each buckeye and place them on the cookie sheet.
Step 4
Place the cookie sheet with the buckeyes in an oven heated to 200 degrees Fahrenheit for two to four hours, depending on the size of the nuts.
Step 5
Remove the buckeyes from the oven. Allow them to cool before stringing.
Tip
Harvest only the buckeyes that have fallen to the ground. Nuts still on the tree are immature and will shrivel and dry in an unattractive shape. You can sun-dry the buckeyes for five to seven days. Bring them in at night. Be sure to hold the nut firmly as you drill. The outer shell is hard, but the center is soft, which may cause the drill to wallow. Spray a coat of clear acrylic on the dried buckeyes to give them a shine.
Warning
Buckeyes are poisonous to humans. Keep them out of the reach of children. Buckeyes are food for squirrels. They may steal them if you sun-dry them.