Things You'll Need
Ladder

Phillips head screwdriver

Slotted screwdriver

Voltage meter

Electrical tape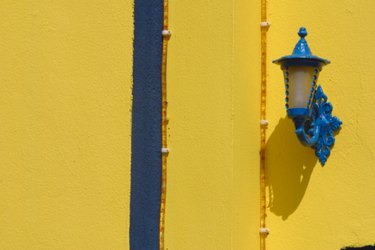 Exterior lighting provides security and highlights exterior features such as landscaping, sidewalks and driveways. Malfunctioning coach lights reduce outside security and invite injury by not illuminating sidewalks and entryways. Troubleshooting an exterior coach light is an easy do-it-yourself home improvement project that eliminates the costs associated with hiring an electrician. With proper knowledge and safety precautions, you can restore the nighttime safety, security and attractiveness to your home.
Step 1
Set up a ladder under the light fixture. Position the ladder on a sound and even surface.
Step 2
Check the bulb in the fixture to make sure it has not simply burned out. Sometimes it is hard to tell if a bulb has burned out just by looking at it. Determine the type of bulb your light fixture uses and replace in the applicable manner. Bulb types will vary between models. The most common type of bulb used for coach lights are incandescent and LED bulbs.
Step 3
Turn off the power supplying the light at the switch or breaker box. Locate the mounting screws that mount the light fixture to the wall or electrical box. Remove the mounting screws that secure the light fixture using a Phillips head or slotted screwdriver.
Step 4
Remove the wire nuts from the common "black or red," neutral "white" and ground wires "green or bare copper" that connect the light fixture to the wires from the junction box. Remove the fixture and set aside.
Step 5
Check to verify there is an electrical current in the junction box. Separate the wires in the junction box so the bare ends are not touching and turn on the power. Test the wires for power using a voltage meter. Contact the common with one of the voltage meter probes while simultaneously contacting the neutral or ground with the other probe. Depending on the type of voltage meter you are using, it will light up or register the voltage on a gauge. If the electrical current registers on the voltage meter, there is an internal problem with the fixture. Replace the fixture to solve the problem. If there is not an electrical current, it could mean a bad switch, breaker, wire or wire connection. If you don't have extensive experience in electrical wiring, hire an electrician to track down the problem.
Tip
For coach light fixtures equipped with a photocell, apply a piece of electrical tape to activate the light fixture. If the fixture does not activate, the photocell has gone bad.
For fixtures equipped with a motion detector, position the switch on the side of the fixture to test mode to troubleshoot the problem.
Warning
Use extreme caution when working around electricity.