Things You'll Need
Baking sheet

Aluminum foil

Paintbrush

Waterproof varnish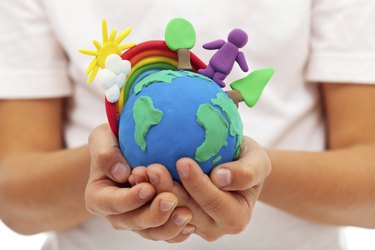 You can let a play dough masterpiece created by you or a loved one harden, which turns it into a keepsake that can last for years. Unfortunately, if you use Hasbro's Play-Doh brand, it will most likely crack as it hardens. If, however, you are using homemade play dough or want to save the Play-Doh sculpture, a few methods may work to harden the piece.
Oven Dry the Play Dough
Step 1
Set your oven to 200 degrees Fahrenheit, and let it preheat for several minutes. Cover the bottom of a baking sheet with aluminum foil.
Step 2
Set the play dough carefully in the middle of the foil covered baking sheet. Place the baking sheet into the preheated oven.
Step 3
Allow the play dough to bake for about 10 to 15 minutes. This helps pull the moisture from the dough, making it harden faster.
Step 4
Turn the oven off and do not open the oven door or remove the baking sheet from the oven. Let the play dough sit in the oven overnight.
Step 5
Remove the hardened figure from the oven.
Cover the Play Dough in Varnish
Step 1
Dip a clean paintbrush into waterproof varnish. Let any excess varnish drip off the brush and back into the container.
Step 2
Brush a light coat of the varnish over the play dough. Apply the varnish on all areas of the play dough to ensure the entire sculpture is protected.
Step 3
Let the varnish-covered play dough piece air dry for several hours.
Tip
Protect your work area by covering it with newspaper when using varnish.
Substitute homemade Mod Podge for the varnish by mixing 2 parts white craft glue with 1 part water. Alternatively, use spray-on varnish instead of paint-on varnish.
Keep the hardened play dough in a dry location away from direct heat and light, and also out of cool, damp locations -- the moisture in the air could cause it to become soft again.
Warning
Always read and follow the directions and warnings found on the varnish container.
Only use varnish in a well ventilated area.