Things You'll Need
Cookie recipes

Cookie decorations

Cookie cutters (optional)

Decorative cookie tray

Paper doily (optional)

Decorative garnishes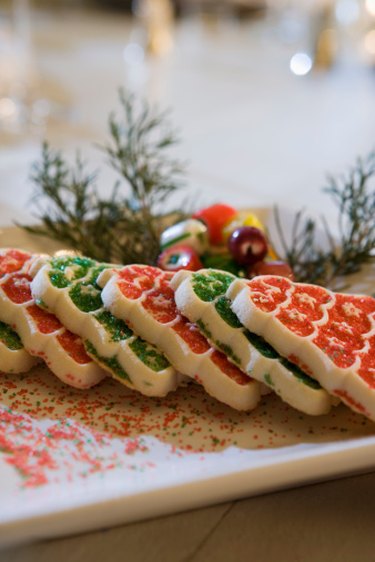 Consider the elements of design when decorating a cookie tray for presentation. Size, color and shape are important elements to keep in mind to create an aesthetically pleasing display. When planning your cookie list, consider how the cookies will look together on the tray. Think about whether the colors and textures will go well together. Finish off the tray with themed garnishes for a final pop of drama.
Step 1
Bake an assortment of cookies in similar sizes. Similar sizes give a uniform and neater appearance to a cookie tray. Small cookies will go unnoticed next to larger cookies.
Step 2
Make cookies in a variety of colors. Colorful cookies are more attractive and will add drama to your tray. Use jellies, melted colored chocolate, sprinkles and colored piping designs to add color to ordinary cookies. Restrict colors to three colors that coordinate well together, rather than a rainbow of colors, for best results.
Step 3
Create a variety of shapes for visual drama. As long as your cookies are about the same size and the colors are coordinated, then you can get creative with shapes. Cut cookies into shapes with cookie cutters, or form them by hand. Some attractive shapes include flowers, hearts and geometric shapes.
Step 4
Locate a decorative tray to use, or decorate a plain tray. Place a paper doily on a tray, if desired. Paper doilies are available in many colors, as well as metallic.
Step 5
Group the same types of cookies together once you are ready to present the tray. Wait until the last minute possible so the flavors of cookies do not mix with each other. Randomly scattering your cookies looks messy and will take away from the visual aesthetic of your tray. Instead, lay one of each of the cookie types flat on the tray and overlap the cookies in either groups or rows. Alternatively, stack cookies together on their sides around the edge.
Step 6
Add decorative edible embellishments to the tray. Add garnishes such as sprigs of herbs, fruits or candies in between cookies. Pour melted chocolates in a variety of colors into decorative molds and place the candies along the edges of the tray. Add edible sugar flowers for decoration, or make fondant flowers in custom colors.
Tip
For a seasonal cookie tray, make sugar cookies cut into seasonal shapes. Paint the shapes with colored icing. Use leaf cookie cutters for fall, pumpkins for Halloween or snowflakes for Christmas.