Things You'll Need
Hydrostatic relief valve

Screwdriver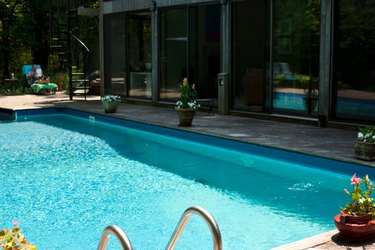 A hydrostatic relief valve is typically installed in the deepest end of an in-ground swimming pool to relieve ground water pressure when the pool is emptied. A typical residential pool holds 20,000 gallons of water and provides over 150,000 pounds of force. However, when a pool is drained and there is ground water present underneath, the pressure of the ground water could cause the pool to "float" and become damaged. A hydrostatic valve relieves this pressure.
Step 1
Drain the swimming pool by opening the main drain valve. This could take several hours or days.
Step 2
Locate the main drain, disassemble the drain grating and remove the dress ring. Use the screwdriver to remove the grating.
Step 3
Install the hydrostatic valve onto the valve stem. The valve typically has a male threaded end that fits into the valve stem opening. This can be hand tightened.
Step 4
Replace the dress ring and drain grating. Secure in place and refill the swimming pool.