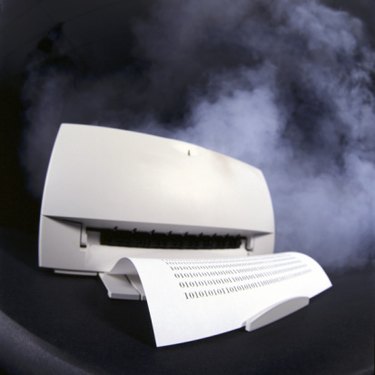 Fireworks, a graphic design program produced by Adobe, is geared to creating graphics for the Web, mobile devices and other devices. Typically, these graphics are required to be in RGB (Red, Green, Blue) mode for proper display. However, if you wish to print any of these graphics, you must convert them to CMYK (Cyan, Magenta, Yellow, Black), as these are the four colors used by a standard printer. This requires that you convert your Fireworks image to CMYK format with Photoshop, another member of the Adobe Creative Suite, as Fireworks does not support CMYK.
Step 1
Save your image in Fireworks. Click "File" and then "Save." Type the name under which you wish to save your Fireworks image, and choose the format under which you wish to save your file in from the drop-down menu. Click "Save."
Step 2
Click the "x" in the upper right-hand corner of the screen, or click "File" and then "Close" to close Fireworks.
Step 4
Open your Fireworks file in Photoshop by clicking "File" and "Open." Click on the filename of your RGB Fireworks image.
Step 5
Convert your RGB Fireworks image to CMYK by clicking "Image" and then "CMYK" from the pop-up menu. The color of the image may lighten just slightly. This is normal.
Step 6
Save your CMYK image by clicking "File" and then "Save." Click "Save" in the save window.