Things You'll Need
Dish soap

Biodegradable concrete stripper

Paintbrushes

Acid scrub brush

Oxalic acid

Concrete stain

Concrete sealer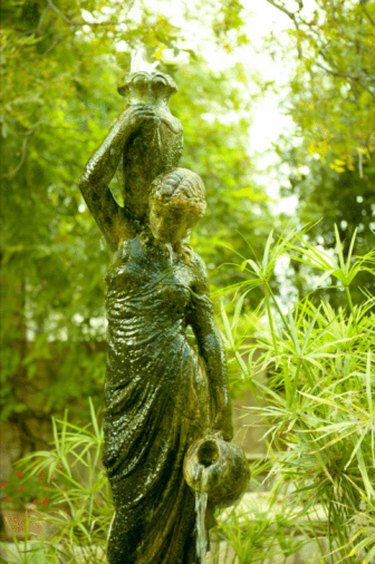 A fountain adds a decorative, sculptural touch to your yard or garden. Many homeowners prefer stained and sealed concrete fountains. Stain transforms the normally dull, gray color of the concrete and seal protects it from moisture damage. Over time, the stain may fade or start to appear outdated. Update the look of your concrete fountain with a fresh coat of stain. Applying new stain to a previously finished fountain requires removing the original seal.
Step 1
Empty the fountain of water and remove the pump and any stones or ornaments.
Step 2
Wash away any algae or other stuck-on matter by scrubbing the fountain walls with hot water and dish soap then rinsing the fountain with fresh water.
Step 3
Coat the fountain with concrete stripper to remove the finish, using a paintbrush or sprayer. Leave the stripper to sit on the fountain for the time indicated in the directions. Periodically "baste" the walls of the fountain with the stripper that puddles in the bottom. Do not allow the stripper to dry. Scrub the fountain with a concrete acid brush then rinse the dissolved matter away.
Step 4
Mix oxalic acid with hot water, using 1/2 cup per gallon of water. Scrub the fountain with the acid solution and leave the solution to sit and bleach the old pigments from the previous stain. The etching agents in oxalic acid will open up the pores of the concrete for the adequate absorption of the new stain. Rinse the solution thoroughly with water and allow the concrete to dry.
Step 5
Paint the concrete with new stain. Leave the stain to dry then add a second coat to saturate the color or to eliminate blotchiness. After the stain fully dries, paint the fountain with a fresh coat of concrete sealer.
Warning
Oxalic acid is toxic. Avoid inhaling powder particles by wearing a face mask and by mixing oxalic acid solution in a still environment. Protect skin and eyes with gloves, protective clothing and eye glasses.