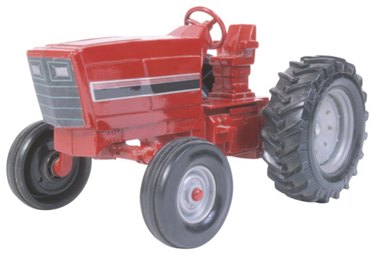 Cub Cadet tractors have been manufactured since the 1960s. The Cub Cadet was originally manufactured by International Harvester, and it has been manufactured by MTD in later years. If you have a Cub Cadet tractor and are unsure of when it was produced, information stamped into plates on the tractor can give you a fairly solid idea of the original manufacture date of your tractor. There are dates of manufacture listed on these tractors, and the serial number can also be decoded and used to provide an approximate date. Cub Cadet serial numbers are numerical and increase over the years.
Step 1
Locate the label or metal plate on the flywheel shroud that is attached to your tractor's engine beside the carburetor. There should be a label on the shroud that shows the date the tractor engine was manufactured. If the shroud has been replaced or the label is missing, you will have to use the serial number of the tractor to determine the year it was manufactured.
Step 2
Locate the serial number on your tractor on the rear side of the transaxle housing, on the left side of the frame rail, on the right side of the transaxle gearbox housing, or behind the seat of the tractor. The serial number will be between a three-digit and an 11-digit numerical code. The more digits the number has, the newer the tractor is.
Step 3
Identify the tractor's date of manufacture by decoding the serial number for the year. You can check Cub Cadet serial numbers on websites such as Garden Tractor Pulling Tips or by contacting Cub Cadet's technical support directly at 1-800-965-4282 (as of June 2011).
Tip
Depending on the model year of the tractor, the serial number may stamped on the tractor in one of several different places. The serial number may also be located on a metal plate in any one of these places or have been painted over, so pay special attention to any metal plates you see fastened to the tractor. You will be able to identify your tractor's model year more easily if you can determine the numerical model number of your tractor and whether it was manufactured by International Harvester or MTD.