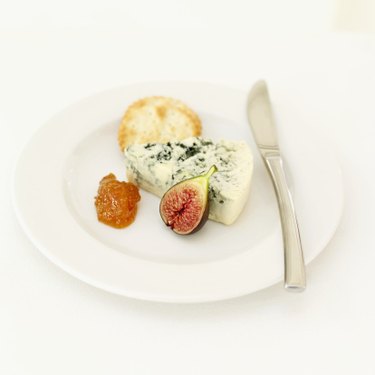 Figs have been a delicacy for thousands of years, going back to the founding of Rome. In America, most figs are grown in California. Fresh figs are only available during the summer, but you can buy dried figs year-round. They are an excellent source of fiber, potassium, calcium and other minerals. Figs are one of those special fruits that pairs as well with sweet dishes as with savory ones. They'll fit right in with desserts and breakfast treats, but they can enrich salads and dinner side dishes just as well.
Step 1
Eat dried figs right out of the package for a simple snack. Once you've opened the fig's packaging, transfer them to an airtight container for safe storage.
Step 2
Plump up dried figs by boiling them in water for up to 10 minutes.
Step 3
Add chopped dried figs to oatmeal or yogurt for a quick, nutritious breakfast. Figs are a natural pair for cheese as well, so sprinkle chopped figs on top of a half bagel smeared with cream cheese.
Step 4
Place dried figs on top of a bed of arugula or mixed greens. Add nuts, crumbled blue cheese and chopped bacon to the salad. Drizzle the whole thing with a simple vinaigrette for a tasty, creative lunch.
Step 5
Arrange dried figs on a platter with a flavorful cheese like blue cheese, goat cheese, Feta or brie. Drizzle the entire plate with honey, balsamic vinegar or extra virgin olive oil. Serve the platter with slices of hearty bread for an elegant, effortless appetizer.
Step 6
Wrap figs in thin slices of prosciutto for a grown-up finger food. If you wish, place a small chunk of cheese on top of the fig before wrapping it for an even more complex flavor.