Things You'll Need
1 chicken breast

Parchment paper

Cutting board

Meat mallet

Plastic zipper-seal bag

1 tsp. baking soda

Colander

Paper towel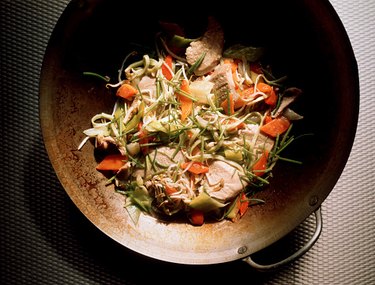 Chinese dishes, such as stir-fry and fried rice, are known for their tender chicken pieces. You can use a few simple techniques to tenderize chicken breast when making Asian-inspired recipes at home. The tenderizing process will take only a few minutes but will go a long way in making the the chicken's texture more desirable. Tenderizing chicken breast is especially important when cooking with a tough piece of meat, as the process breaks down rigid muscle fibers.
Step 1
Wrap a chicken breast in parchment paper and place it on top of a cutting board.
Step 2
Pound the chicken with a metal or rubber meat mallet until it is soft and tender. Be careful not to over-pound the meat, which could make it too thin and break apart.
Step 3
Marinade the chicken in baking soda to make the meat even more tender by filling a plastic zipper-seal bag with 1 tsp. of baking soda.
Step 4
Place the pounded chicken breast into the bag and shake it to coat with the baking soda. Place the chicken into your refrigerator for 20 minutes to allow the baking soda to break down tough muscle fibers.
Step 5
Transfer the chicken from the bag to a colander. Run the chicken under cool water to rinse off the baking soda. Pat the meat dry with a paper towel and cut it into strips or bite-size pieces, depending on your recipe needs. Use the tenderized chicken breast in your favorite Chinese recipe.